Baby Friendly Pilates (16+) Newcastle
Bring your baby as you strengthen and stabilise
Adult Class
Newcastle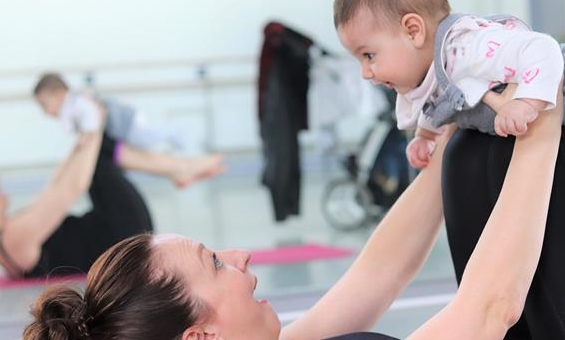 Class times:
Every Wednesday 1.00pm-2.00pm
What is it?
This class welcomes all participants, including tiny ones!

Baby Friendly Pilates is great for giving new parents some much deserved time to focus on themselves without worrying about childcare.

In the phase where it can be difficult to leave your baby to attend your usual classes, this class offers a solution for mums, dads or other caregivers! Exercises will be modified for those in the post-natal phase to ensure suitability for all attendees, but it is open to everyone wanting to attend a gentle Pilates class, provided you don't mind babies!

For the post-natal mums it is suitable from the 6-8 week post-natal check, 10-12 weeks for caesarean deliveries, or once medical clearance is given. Suitable for babies to attend up until the crawling stage. Bring a blanket for baby to lie on and a favourite toy to interact with baby where appropriate.


Pilates supports the recovery of the pelvic floor and Diastasi Recti abdominals (abdominal lining), which is brilliant for those who have gone through pregnancy. At the same time it strengthens the core, improves flexibility and balance and enhances mental awareness of the body so other parents will also feel a whole host of benefits.

The class will also help your alignment and tone around the hips and core, ease and stretch tired muscles of the back and shoulders and work though functional fitness movements for all over body strength.

It is a great way to bond with your baby, learn exercises you can do at home and meet other local parents.

Who is it for?
Anyone aged 16+ with babies from 6 weeks up to crawling.

What should I wear?
Comfortable clothing, no shoes

What do I need to bring?
Bottle of water.

Teacher Josie Lucas.
Having qualified as a Body Control Pilates Matwork instructor in December 2002, Josie gained Matwork Master Teacher certification in 2008 and her machine work certification in 2014. Josie's background is contemporary dance, which has both facilitated her understanding of the classical Pilates Matwork and influenced her teaching style.

Please let the ticket office know if you have any additional needs, if you feel comfortable in doing so. If you are pregnant, have an injury or an existing medical condition we would recommend that you seek professional advice before attending a class.