Introduction to Yoga (16+) Newcastle
A beginners guide to yoga
Adult Class
Newcastle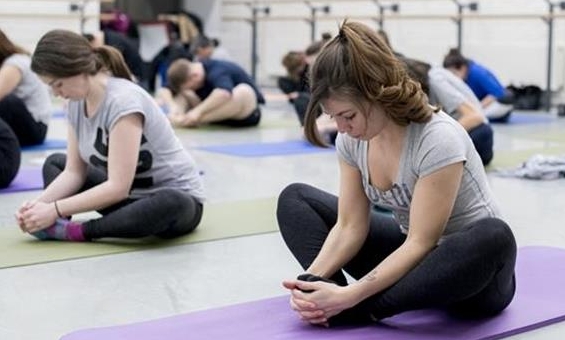 Class times:
Every Wednesday 5.30pm-6.30pm
What is it?
This class will offer complete beginners an introduction to all things yoga! Working through the basic yoga poses, the teacher will guide you through how to do each flow and posture, offering advice and explanations behind each movement. It will provide you with an understanding of the foundations of yoga, building confidence, strength and alignment. This class is the perfect first step to anyone new to yoga, before moving on to the more challenging and dynamic Vinyasa Flow, Dynamic Flow or Power Yoga.

What should I wear?
Comfortable clothing, no shoes

What do I need to bring? A mat if you have one (Dance City also has mats in the studio that you can borrow for free).

Teacher Ellen Spence
Ellen graduated from the Northern School of Contemporary Dance in 2016. She discovered her love for yoga when her dancing career took her across the Middle East where she developed her practice in Israel and Lebanon. In a pursuit of a traditional, holistic and ancient philosophical practice, Ellen went on to study at Himalaya Yoga Valley, India, and graduated in February, 2019.
Ellen's style blends traditional Ashtanga Vinyasa Yoga with Iyengar inspired alignment techniques
following her own training under respected yogacharya Lalit Kumar.
Now, Ellen continues a professional dancing career alongside teaching yoga where she combines her dancing roots and a specific focus on a dynamic practice to heal the body and mind through self discipline and self study. Inspired by Lalit Kumar's teachings, Ellen's mantra is to weave the philosophy and yogic lifestyle of the Eight Limbs of Ashtanga yoga into the modern world.

Please let the ticket office know if you have any additional needs, if you feel comfortable in doing so. If you are pregnant, have an injury or an existing medical condition we would recommend that you seek professional advice before attending a class.