Partner Yoga Masterclass (16+) Newcastle
A fun and challenging partner class
Adult Workshop
Newcastle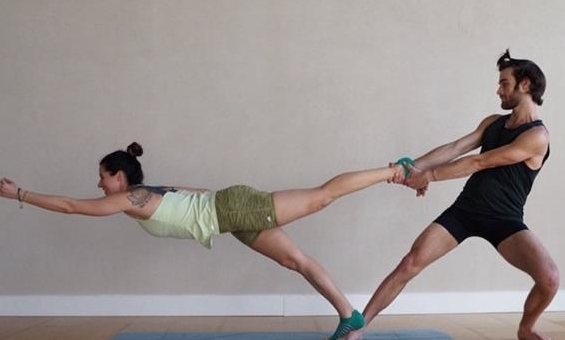 Class times:
First Wednesday of every month 6.30pm-8.00pm
What is it?
This masterclass works through traditional yoga stretches, postures and lifts with your partner. It will aid strength, flexibility and build a deeper connection with your partner, as well as being lots of fun!

Partners can be couples, friends and family members. Single participants are welcome to attend and you will be paired with another participant or the instructors.

Who is it for?
Anyone who is up for the challenge - total beginners welcome

What should I wear?
Comfortable clothing.

What should I bring?
Dance City provides mats, bottled water

Teacher - Ellen Spence
Ellen graduated from the Northern School of Contemporary Dance in 2016. She discovered her love for yoga when her dancing career took her across the Middle East where she developed her practice in Israel and Lebanon. In a pursuit of a traditional, holistic and ancient philosophical practice, Ellen went on to study at Himalaya Yoga Valley, India, and graduated in February, 2019.
Ellen's style blends traditional Ashtanga Vinyasa Yoga with Iyengar inspired alignment techniques following her own training under respected yogacharya Lalit Kumar.
Now, Ellen continues a professional dancing career alongside teaching yoga where she combines her dancing roots and a specific focus on a dynamic practice to heal the body and mind through self discipline and self study. Inspired by Lalit Kumar's teachings, Ellen's mantra is to weave the philosophy and yogic lifestyle of the Eight Limbs of Ashtanga yoga into the modern world.