POUND® ROCKOUT. WORKOUT (16+) Newcastle
Rock out your Friday night!
Adult Class
Newcastle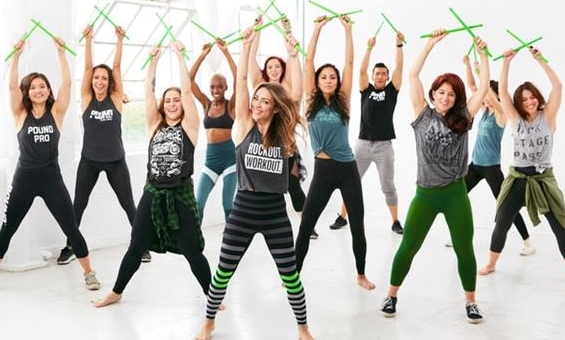 Class times:
Every Friday 7pm-8pm
What is it?
Instead of listening to music, you become the music in this session inspired by the infectious, energizing and sweat-dripping fun of playing the drums. The class combines an exciting soundtrack with cardio, conditioning, and strength training and yoga and pilates-inspired movements.

Using lightly weighted drumsticks engineered specifically for exercising, Rockout Workout transforms drumming into an incredibly effective way of working out, whilst being loads of fun at the same time! Designed for all fitness levels, this class provides the perfect atmosphere for letting loose, getting energized and rocking out on a Friday night!

Who is it for?
Anyone aged 16+ all levels and abilities.

What should I wear?
Comfortable clothing, nothing too tight or too loose. Trainers are advised, but no black soles.

What do I need to bring?
Bottle of water, towel

Teacher Danielle Neighbour
Danielle is an ex-dancer and fitness enthusiast who has created a programme of classes that are welcoming to all, fun and would also help people to get results. Every single class she runs has an aim of building strength, tone, fitness and confidence. It doesn't matter what level of fitness you have, Danielle will work with you to ensure that you can take part, have fun and feel better!