Ballroom (16+) SD Partners
A range of classic Ballroom styles
Adult Class
Newcastle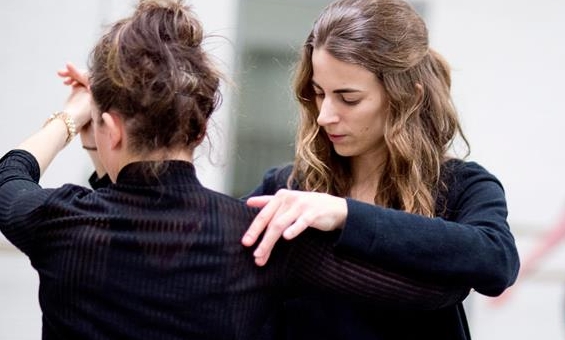 Class times:
Every Tuesday 5.45-6.45pm
This class is for partners who are already living together or in a social bubble. We cannot partner solo attendees at present due to social distancing rules. There is no online version of this class.

Please tell the teacher your names as you enter the studio. We are no longer issuing paper tickets.

What is it?
A relaxed and social class where you'll learn a range of dances, such as Waltz, Quickstep and Foxtrot. We will build on these every week so you'll learn full routines to dance. We will build on these every week so you will learn full routines to dance with your partner.

Who is it for?
Aged 16+, all levels and abilities. Please attend with a partner from your household or social bubble.

What should I wear?
Comfortable clothing. Women should wear dress shoes with a mid-heel (no stilettos), men should wear smart shoes they can turn in.

What do I need to bring?
Shoes (see above)

Teacher Alyssa Lisle
Alyssa began her Ballroom dance training at the age of 6, and competed in national competitions from the age of 9, gaining many Championship titles throughout this time. She gained her Ballroom Teacher Training at the age of 17.

Please let the ticket office know if you have any additional needs, if you feel comfortable in doing so. If you are pregnant, have an injury or an existing medical condition we would recommend that you seek professional advice before attending a class.

Studio classes must follow social distancing rules, please keep a 2 metre distance where possible between pairs. Due to reduced capacity studio class tickets are very limited.

Masks must be worn around the Dance City building. There is a possibility that you will be asked to keep your mask on during class. Go straight to your studio when you arrive. The café remains closed for now. Drinking fountains, lockers and showers are currently out of use to reduce risk of contamination. Please bring your own bottles of water, yoga mats, dance shoes and any other items as Dance City cannot supply these.

Do not attend Dance City if you have possible Covid 19 symptoms. Inform us immediately if you have attended and develop Covid 19, so that we can implement Track and Trace. We are taking every reasonable precaution to protect the health and safety of our staff and building users.