Get Moving (16+) Zoom
Take part at home!
Online Class
Newcastle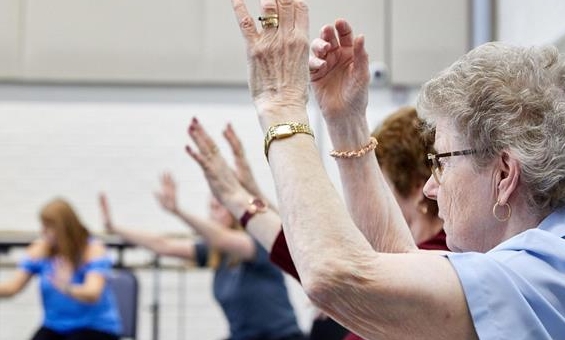 Class times:
Every Friday 11:15-12:15pm
*This is an online class. The teacher will be filmed live at Dance City and you will take part at home via Zoom.*

What is it? Our Get Moving class is for adults with neurological conditions such as (and not limited to) Parkinson's. The class has been specially designed to build in a structure which is inclusive, upbeat, fun and creative. The class can be done seated and/or standing and is easily adaptable to a gentle way of getting moving. We move to a range of music through the eras and learn through different dance-based exercises. We also utilise a range of props (in line with covid policy) to help with creativity, focus and performance work.


What should I wear? Comfortable clothing that you can move in.

Teacher Molly Stroyan
Molly Grey is an experienced community dance practitioner based in the north east. She specialises in inclusive dance for those with learning disabilities and those living with neurological and palliative conditions.

Molly has trained in many styles of dance from a young age including tap, ballet, stage and contemporary. Having achieved first class BA (Hons) degree in Dance, Performance and Teaching and a Merit award for PGDip in Community Dance, she brings together an eclectic mix of styles and music to her inclusive classes. Molly's classes are a safe, fun, and happy space for creative exploration and learning new dance skills.

Molly is currently training to become a Dance Movement Psychotherapist which will in turn help inform the theory behind the specialist classes she teaches here at Dance City.



Important information:
This is an online class. The teacher will be filmed live at Dance City, and you will take part from home via the online platform Zoom.

You will find the link, meeting ID and password in your booking confirmation for this class. You must not share this link with anyone. You should be booked under your own name.

Please fill in our feedback questionnaire after the class to tell us what you think!

Safety notices:
Please make sure you have plenty of space to move in, clear of objects and tripping hazards. Dance City is not responsible for the safety of your home environment or for any accidents. You must keep your camera on at all times for safeguarding purposes. You can talk at the beginning and end of the class but should keep your microphone muted while dancing. You can write any questions or comments in the group 'chat' at any time which will picked up by the class assistant.

Please let us know if you have any additional needs in advance, if you feel comfortable in doing so. If you have an injury or an existing medical condition we would recommend that you seek professional advice before attending a class.

Please note you must be logged in to your Dance City account to purchase tickets.

Remember to accept 'cookies' on the bar at the top of the page.