Pilates (Adults) Zoom
Take part at home!
Adult Class
Newcastle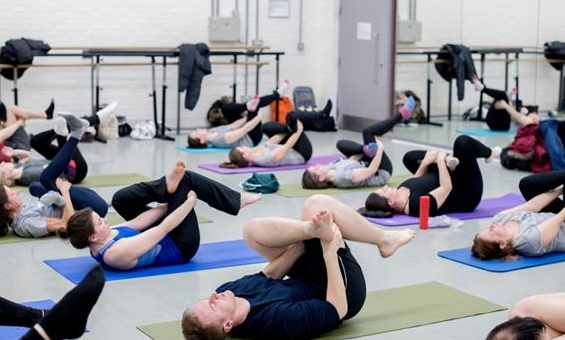 Class times:
Every Tuesday 6.45pm-7.45pm
*This is an online class. The teacher will be filmed live at Dance City and you will take part at home via Zoom.*

Targets: core, back, flexibility and mobility.

What is it? Pilates is a system of exercises designed to improve physical strength, flexibility, posture, and enhance mental awareness of the body. Through a series of strengthening and stretching exercises, Pilates can help reduce back and neck pain by strengthening the core, keeping the joints and muscles supple, addressing muscle balance to help improve posture and helping to flatten that abdominal area!

Who is it for? Anyone aged 18+ with or without Pilates experience.

What should I wear? Comfortable clothing, no shoes

What do I need to bring? Bottle of water, your own pilates mat or yoga mat

Teacher: Rachel Garnham Rachel Garnham is the Founder and Creative Director of Serenity Home Studios, Rachel Garnham is a trained dancer by trade, graduating from the Trinity Laban Conservatoire in 2013 with a BA Hons degree in Contemporary Dance. She has worked and taught both here and abroad, not only in the yoga studio but also in the dance and fitness industry at large for 10 years. Since graduation, Rachel has since completed her 500hr Advanced Yoga Teacher Training, is a qualified Pilates and Barre instructor and has certification in pregnancy, post-natal and baby yoga / massage. A true all-rounder she brings expertise, creativity and wit to her mat. You will laugh, you will learn and leave your mat feeling liberated. A safe, (fun!) and empowering teacher for All

Please let the ticket office know if you have any additional needs, if you feel comfortable in doing so. If you are pregnant, have an injury or an existing medical condition we would recommend that you seek professional advice before attending a class.


This is an online class. The teacher will be filmed live at Dance City, and you will take part from home via the online platform Zoom.

You will find the link, meeting ID and password in your booking confirmation for this class. You must not share this link with anyone. You should be booked under your own name.

Safety notices: Please make sure you have plenty of space to move in, clear of objects and tripping hazards. Dance City is not responsible for the safety of your home environment or for any accidents.

You must keep your camera on at all times for safeguarding purposes. You can talk at the beginning and end of the class but should keep your microphone muted while dancing. You can write any questions or comments in the group 'chat' at any time.


Please note you must be logged in to your Dance City account to purchase tickets. Remember to accept 'cookies' on the bar at the top of the page.