Ballet Improvers (16+) SD
Adult Class
Newcastle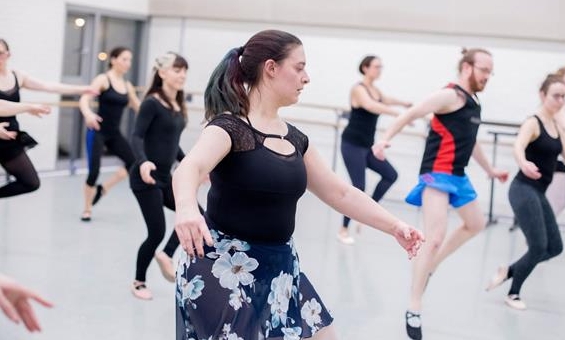 Class times:
Mondays 7-8pm
Please tell the teacher your name as you enter the studio. We are no longer issuing paper tickets.

What is it? Focusing on more challenging ballet technique in a friendly and fun class. Develop and refine classic ballet steps and sequences. Ballet tones and lengthens muscles and aids posture.

Who is it for? 16+yrs with some experience of ballet. We recommend this class if you have spent some time in the beginners class, or have some previous experience in ballet.

What should I wear? Something you can move comfortably in. Ballet shoes are recommended but not necessary, socks are fine.
What should I bring? Bottle of water.

Teacher Giulia Coti Zelati
After graduating from London Contemporary Dance School and obtaining an MA degree through an apprenticeship with balletLORENT, Giulia has been developing her own practice as a dance artist, working primarily with children and young people through creative dance and set movement based sessions. Teaching has been a continuous interest of hers as a dance artist: drawing on a mixture of different contemporary dance techniques, she has been teaching in numerous settings, from professional workshops to open classes, to participants of all ages across the UK.

Please let the ticket office know if you have any additional needs, if you feel comfortable in doing so. If you are pregnant, have an injury or an existing medical condition we would recommend that you seek professional advice before attending a class.


Studio classes must follow social distancing rules, please keep a 2 metre distance where possible. Due to reduced capacity studio class tickets are very limited. This is a hybrid class. Some people will be taking part in the studio with social distancing, while some will be taking part at home via Zoom. There will be a camera and screen in the studio live streaming the class into Zoom participants' homes.

Masks must be worn around the Dance City building. There is a possibility that you will be asked to keep your mask on during class. Go straight to your studio when you arrive. The café remains closed for now. Drinking fountains, lockers and showers are currently out of use to reduce risk of contamination. Please bring your own bottles of water, yoga mats, dance shoes and any other items as Dance City cannot supply these.

Do not attend Dance City if you have possible Covid 19 symptoms. Inform us immediately if you have attended and develop Covid 19, so that we can implement Track and Trace. We are taking every reasonable precaution to protect the health and safety of our staff and building users.