Guest Pro Class - Flexibility with Kathryn Marshall Movement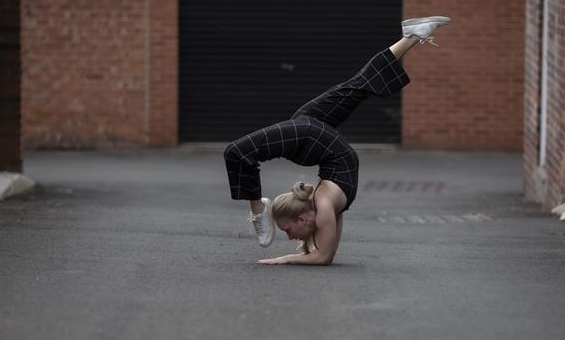 Class times:
9.30am-11.00am
It is so important for all performers to have a strong balance between strength and flexibility. For injury prevention, and to achieve those shapes and freedom of movement we desire, we need to keep our bodies well maintained, healthy and balanced.
These mixed level, adult flexibility classes are here to give you the tools and knowledge to reach your flexibility goals in a safe and strong way, and are designed specifically to go hand in hand with your other art forms such as aerial, yoga, dance, acrobatics. Gain stability, confidence, and more freedom to move by increasing both strength and flexibility equally.

We are going to be spending an hour and a half of body conditioning, mobilising, and then stretching so whatever your goals are, to strengthen the body, generally feel more supple, recover from an injury, or achieve more advanced flexibility poses; you will leave the class feeling amazing!

We will be working on:
- Body conditioning
- Strengthening and mobilising
- Correct flexibility technique
- Flexibility specifically for dancers
- Injury prevention
- Flexibility fundamentals and the basics of contortion
- Improved posture
- Desired flexibility poses and advanced poses such as splits, bridges etc


Flexibility and stretching can be very misunderstood, and this is why I am determined to spread the knowledge that everyone can be flexible, it just takes a bit of practice and determination!

Come to class wearing comfortable clothing.
We will be using yoga block, mats and straps so feel free to bring your own if you wish.

See you on the mat!

As part of Dance City's continuing commitment to support the development of professional artists, the Professional Dance Artist programme offers FREE daily class for professional artists. These classes are suitable for those who are at a professional standard. To read our full eligibility criteria please read our 'About' section here: dancecity.co.uk/professional-artists/ignite-programme/

*Please note you must be logged in to your Dance City account to purchase tickets. The system will class you as a member if you are registered as Professional Artist and you do not need to purchase a membership to book onto a class.

If you are not already registered as a Pro Artist with Dance City please contact us at info@dancecity.co.uk or 0191 261 0505 before trying to make your booking.