Dizzy Families (0-4) Newcastle
Play and dance for young children and parents
Family Class
Newcastle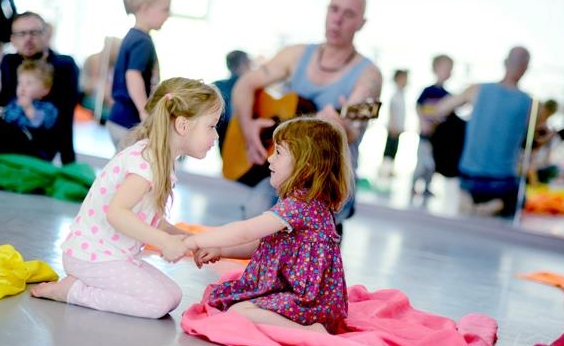 Class times:
Every Saturday 10-11am
Please note: this class will only be running until Saturday 27th October 2018. Due to low numbers it will be cancelled beyond this date.

What is it?
These fun, energetic parent and child classes are devised to promote co–ordination, movement skills and imaginative play using movement, games and music. These sessions offer play and dance for young children and their parents using songs, dance and play. Dizzy Kids classes are informed by research into creativity, movement play, developmental movement, communication, physical development, the Early Years Foundation Stage, Early Years musicality but most of all they're just lots of fun.

Who is it for?
All 0-4 year olds and their adults.

What should I wear?
Comfortable clothes.

What should I bring?
Just you and your child

Teacher Keith Mills
The class is run by Keith Mills who has worked for Dance City and the Bare Toed Dance Company since 2000. Keith brings his musical skills on guitar, djembe, boomwhakers and songs into the group to create a fun imaginative creative and learning experience. Keith's background is mainly in music, working in schools and various community settings with a wide range of children and adults.
If the attending child has any additional needs please let the ticket office know when booking, if you feel comfortable to do so.