Hang Stretch Yoga (16+)
Hang upside down in classic yoga positions!
Adult Workshop
Newcastle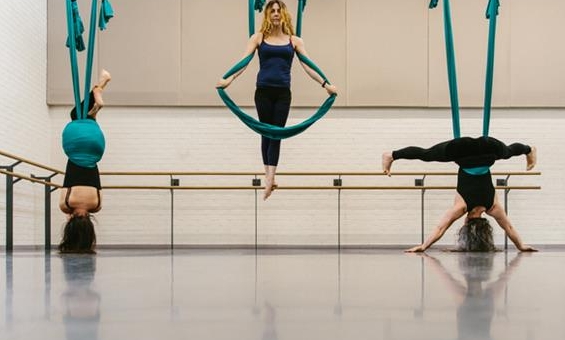 What is it?
A new type of yoga using a hanging cocoon to help achieve traditional yoga positions. This unique and challenging class combines yoga postures in a weightless aerial environment. You will use fabric cocoons and hammocks to explore inverted poses and stretches while anti-gravity supports the stretch. These workshops are suitable for all levels and abilities. Please be aware that sometimes you will be working with somebody else to support each other's poses.

PLEASE NOTE - No latecomers will be admitted as essential health & safety information/techniques are given during the warm up.

Who is it for?
Anyone who enjoys stretching/yoga/being upside down - no experience of yoga or aerial needed

What should I wear?
Comfortable clothing, which should cover the backs of your knees, torso and armpits. Please avoid wearing zips, buttons, jewellery and avoid long nails, to any Hang workshop as they can cause damage to the equipment.

What should I bring?
Water to drink

PLEASE NOTE: We require at least 7 days' notice if you would like to cancel exchange your ticket once booked.

Teacher
The Hang Aerial Dance tutors Lynn, Jane and Sarah are all qualified in yoga teaching and are aerialist teachers and performers with many years' experience. Lynn Campbell's work is Hatha yoga based and Jane Park and Sarah Coxon teach Iyengar.

Please let the ticket office know if you have any additional needs, if you feel comfortable in doing so. If you are pregnant, have an injury or an existing medical condition we would recommend that you seek professional advice before attending a class.