Tap (Adults)
Adult Class
Newcastle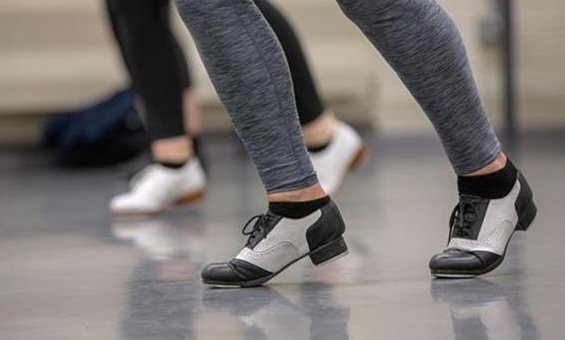 Class times:
Every Wednesday 6:30-7:30pm
Targets: rhythm, coordination, cardio, legs.

What is it?
Unleash your inner Fred Astaire or Ginger Rogers in classic Broadway style. Tap originated in the United States through the fusion of several ethnic percussive dances, primarily African tribal dances and Scottish, Irish, and English hornpipes, clog dances and jigs. It uses taps to beat out rhythms and can be danced either without music We cover all the basic steps, learn how to dance in time to music and how to memorise and perform routines.

Who is it for?
Adults of all ages, beginners welcome

What should I wear?
Loose comfortable clothing and tap shoes if you have them. If not you can hire them from Dance City if we have your size. In case there is no availability bring comfortable, clean shoes which will not damage the floor for example trainers. It is recommended that if you want to attend on a regular basis you hire or buy tap shoes.

What shall I bring?
Enthusiasm and a willingness to learn. You might want to bring a friend as sometimes activities are easier to sustain if you do them with someone else.

Teacher Sue Gow
Sue is an experienced all round dance teacher who has worked for Dance City since 2005. Tap is a passion and she enjoys sharing her ideas and experience and encouraging people to perform. Sue has also put on a range of shows, taught on BTEC in dance and trained people for auditions.

Please let the ticket office know if you have any additional needs, if you feel comfortable in doing so. If you are pregnant, have an injury or an existing medical condition we would recommend that you seek professional advice before attending a class.