Get Moving (All) Newcastle
A supportive and fun class
Additional Needs Class
Newcastle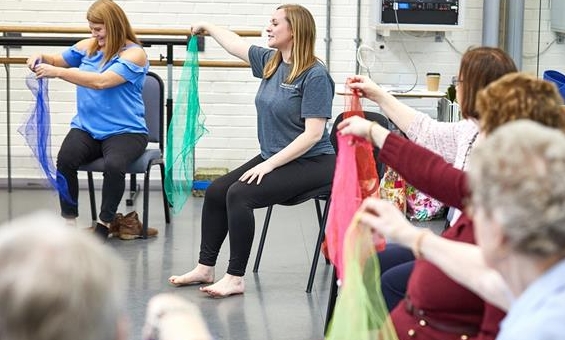 Class times:
Every Friday 11.15am-12.15pm
What is it?
This class is a specially designed for people with Parkinson's and their assistants, friends, families and carers and run by a specially trained tutor. During the class participants will be encouraged to express themselves through dance in a supportive, fun and friendly environment. The class will help to develop confidence through movement, and aims to temporarily relieve some of symptoms of Parkinson's in everyday life, with participants experiencing a sense of enjoyment and well-being through dance.

What should I wear?
Comfortable clothing that you can move in.

What do I need to bring?
Just some water. (We also have a water fountain on the first floor and a café on the ground floor.)

Teacher Molly Stroyan
Molly has studied contemporary dance and was awarded a First Class Bachelor of Arts Degree in Dance, Performance and Teaching from The University of Central Lancashire. She has had experience working with renowned dance companies and initiatives such as Candoco Dance, Dance for Parkinson's, Corali, BalletLorent and Ludus whom work with people of all abilities and needs, in different communities. She has specialist training in dance classes for people with Parkinson's.