Best of the West End Summer Camp (6-16)
A fun-filled week of dance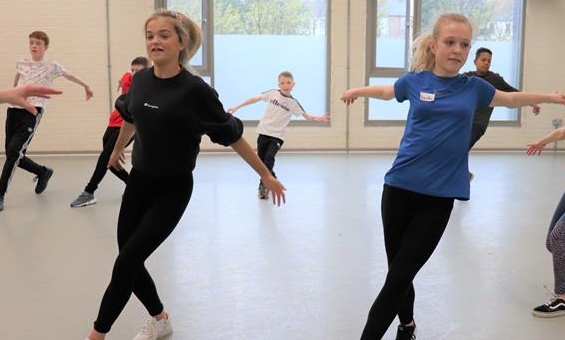 Love, live, dance!

Does your child LOVE to dance? Are you looking for fun, active and educational opportunities for them during the Easter and Summer holidays? Then the Dance City holiday dance camps could be just what you need.

Whether your child already dances or is a complete beginner all they need is passion and enthusiasm to get moving. Dance camps take place in the beautiful Dance City venue in Newcastle, in professional standard dance studios and a 240 seat theatre – a safe, friendly and inspiring environment. The teaching staff are all experienced dance artists who will support your child to have the best experience – growing not only in dance skills but in confidence and social skills too. All dance camps are suitable for ages 6-16. Children will be sorted into age and skill-appropriate groups. At the end of each week family and friends can watch the performance in the Dance City theatre.

Best of the West End Summer
3 – 7 August, 9 – 5pm daily, performance at 3.00pm on the Friday
£125

A fun-filled week exploring dance routines, songs and characters from some of the most popular musicals around. Children can become part of the Greatest Show and don the ringmaster's hat, show off supercalifragilistic dance moves and help create a little bit of Wicked magic with just a click of their heels.

Children can bring a packed lunch, or enjoy a hot meal with dessert and drink in the DC Cafe for £4.50 per day.

The duration is 9.00am-5.00pm however you can drop your child off from 8.30am. Children should be collected promptly at 5.00pm. Participants will be monitored until a designated person arrives to collect your child.

There will be a performance at 3.00pm on the Thursday for family. Two tickets will be automatically booked per child - if you have any access requirements please mention this when booking. Tickets are allocated seating.

The price paid is for all 5 days.

Sibling discounts available - £15 off per child when booking 2 siblings or £17 off per child when booking 3 or more siblings.

Mulitbuy discounts available - book both Urban & Best of the West End Summer Camps and get £15 off per week, or book all three dance camps (Easter & summer) and get £17 off per week.

We appreciate that not everyone has the ability to pay for the Holiday Camps up front so if you would prefer to spread payments out we can work with you to develop a bespoke payment plan. We would ask for a minimum £10 deposit per ticket, then we can arrange for regular instalments to be paid for an amount that works best for you.