Centre for Advanced Training (CAT)

The Dance City Centre for Advanced Training is part of the Department for Education's Music and Dance Scheme offering a contemporary dance training programme for young people from the North East region who are 10 – 16 years of age.  We are based at Dance City in Newcastle, although students from the south of the region can attend their week day technique classes in Darlington.
Entry to the CAT is by audition only, and we are looking for young people who demonstrate exceptional talent or potential in contemporary dance.
Although students should be no more than 16 years of age when they join, once registered they can continue training until they are 18 years of age.
The Dance City Centre for Advanced Training is part of a national network of CAT's delivering non-residential, pre-vocational, professional dance training.  More information about the National CAT's programme can be found here: www.nationaldancecats.co.uk
What can I expect as a Dance City Centre for Advanced Training student?
Contemporary dance training at the Dance City Centre for Advanced Training includes:
A minimum of seven hours training, split over three classes per week.
The choice to attend your two mid-week classes in Darlington or Newcastle. Mid-week classes cover contemporary technique and classical ballet.
All CAT students attend weekend classes at Dance City in Newcastle. Weekend classes cover contemporary technique, creative movement and body conditioning.
Regular opportunities to perform in the Dance City Theatre.
Two intensive, week-long dance workshops each year (during school holidays) with a guest teacher or choreographer.
Opportunities to attend workshops with leading dance companies and guest teachers.
Organised theatre trips to see leading dance companies.
Regular support for the prevention and management of injuries.
Termly progress reports from teachers.
Individual mentor support and mid-year tutorials.
Advice and guidance during the application process for vocational training.
How much does the Dance City Centre for Advanced Training cost?
The Dance City Centre for Advanced Training is financially supported by the government's Department for Education (DfE) as part of their national Music and Dance Scheme.  The fee structure for CAT training is set nationally by the DfE.
Means-tested grants are available to cover the cost of tuition and CAT students who have an annual household income of less than £30,529 will receive their training free of charge.
Tuition fees for CAT students with an annual household income in excess of £30,529 are charged on a rising scale related to income.
Before assessing your annual household income, £2,072 will be deducted from the final total for each child living with you as a dependant (including the child who is enrolling on the programme).
Please Note: The DfE may make slight adjustments to the fees and grants structure each year.  The information on this web site is accurate at the time of publication and any adjustments for the following academic year will be minimal.
An example is given in the table below of the fees to be paid for 2018 – 2019 depending on the annual household income: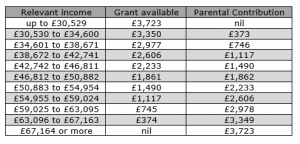 Dance City Centre for Advanced Training Auditions
This year's auditions for entry to the CAT in September 2018 are now closed.
The audition process for entry to the CAT 2019 – 2020 will open in autumn 2018 when the audition dates for Spring/Summer 2019 will be announced.
Can I find out more about the CAT before I audition?
Attending a Taster Session will help you find out more about what it is like to be a student at the CAT and help you decide whether or not you are ready to make such a big commitment and if you want to apply for one of the open auditions.
The Taster Session will consist of a half an hour observation of current CAT students taking class, a 1½ hour contemporary class followed by a 15 minute break and then a 30 minute presentation about the CAT for both parents and students to attend.
Taster Sessions will take place during the February Half Term and Easter Holidays 2019, dates and times to be announced.
What should I wear at an audition?
When taking part in auditions for the CAT applicants should wear the following:
• Females – leotard / vest, footless tights, ballet shoes or socks.
• Males – shorts and t-shirt / vest, ballet shoes or socks.
If you do not have any dancewear, then leggings or shorts and a t-shirt or sports vest will be suitable. Loose clothing is not appropriate as the audition panel need to be able to observe body alignment.
Contact Information
For all queries related to the Centre for Advanced Training please contact Marian Milbourne (CAT Coordinator):
Email: marian.milbourne@dancecity.co.uk
Telephone: 0191 269 5578