Dance City Film Festival 2021
A vibrant and eclectic mix of screen dance films!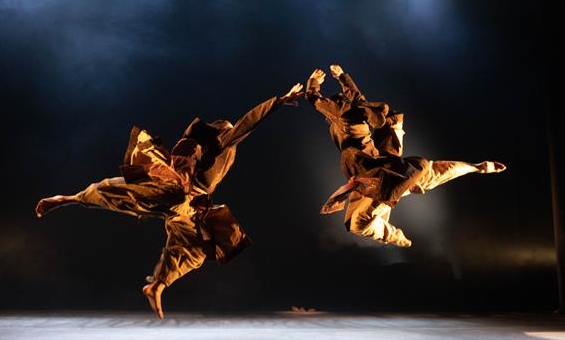 Running time:
approx. 1 hour 30 mins
Tickets:
£9.50
£8.00 students
This April, in partnership with TIN Arts, we are hosting a brand new Dance City Film Fest, with a vibrant online program of screen dance shorts.

There are three opportunities to see the 90 minute programme of short films online

On Friday the main programme starts at 7pm followed by a live Q&A with Art of Spectra, Robbie Synge (Forest Floor), Alex Anslow, and Martin Wilson (TIN Arts).

On Saturday the main programme starts at 7pm followed by a live Q&A with Anand Bhatt, Martin Wilson (TIN Arts), Kristina and Sade Alleyne (Alleyne Dance) Seeta Patel and Paul Davidson (Corali Dance).

On Sunday there will be no live Q&A following the main programme but instead a beautiful documentary providing an insight into the creation of Samsara.

The programme includes:

Samsara - Aakash Odedra Company
Samsara is an unprecedented expression of cultural exchange through the language of dance, drawing upon the diverse disciplines of ballet, contemporary dance, Chinese folk dance and the classical Indian dance form kathak.

Forest Floor – Julie Cleves and Robbie Synge
Shot in Abernethy Forest in The Cairngorms, Forest Floor considers different bodies and physical access challenges in a rural location. Close friends Julie and Robbie sit quietly together on the ground, a simple idea requiring a novel approach.

Adjacent Movement - Art of Spectra
A collaboration between filmmaker Simon Carlgren, choreographer Peter Svenzon of Art of Spectra and Stockholm Academy of Dramatic Arts (STDH).

Dancing to Art - Corali Dance Company
Dancing to Art is a short film made in the empty galleries of Tate Britain. Four dancers create individual dance responses to art-works in the gallery. The dancers take up space in the rooms of Tate illustrating the many ways that art can inspire dance, whilst at the same time inspiring other people to have a go themselves.

Escape the Nowhere - Paul Davidson with National Youth Dance Company
During summer 2017 National Youth Dance Company and Corali Dance Company brought together young dancers from across England to create a dance film. Choreographer, Paul Davidson, a member of both NYDC and Corali, worked collaboratively with the inclusive cast. A team of skilled dance and film professionals mentored Paul and the cast working to support and animate the dancer's ideas, guiding them to build the structure, content and storyline.

A Very bR*T*SH Museum- Seeta Patel
A new short film challenging places like the British museum in terms of their role in looted history. Using movement, projections and animations, the film comments on the ongoing discussions around museums returning looted artefacts, and explores the complex relationships it leaves society with in the world today. It also aims to question the legacy of colonialism and imperialism upheld by arts institutions.

The Making of Samsara, a documentary by Dmitriy Kuleshov of Aakash Odedra Company
SUNDAY ONLY
This documentary gives a unique insight to the collaborative creative process that took place over three years, across the UK, USA, China & Australia. Through the voices of the choreographers/performers and the producer the journey of Samsara is brought to life. Aakash Odedra Company and Bagri Foundation invite you to experience The Making of Samsara, and discover how remarkably, the show went on despite language barriers and a global pandemic.