Behind the Face of a Rock, Throwing Stones - Surface Area Dance Theatre
A tactile, progressive and sensory experience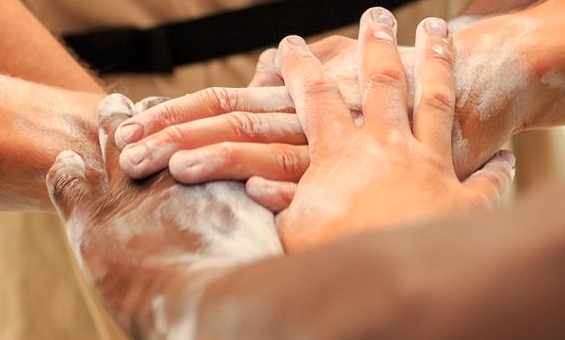 Running time:
approx. 45 mins
Tickets:
£13.50
£8.00 students,
£11.00 concession
Behind the Face of a Rock, Throwing Stones is an exploration of language, sensation, contemplation and physical expression through movement and wearable technology. It was developed through a process of enquiry and choreographic research centred upon an experiential understanding and knowledge of British Sign Language, D/deaf culture, Japanese culture and Butoh.

Central to the piece is the Japanese word Ma, which can be translated as a gap, pause or interval. In developing the work, the group physically interpreted the possibilities of Ma, producing an assertive series of gestures, postures and settlements of physical contact. Behind the Face of a Rock, Throwing Stones proposes the use of the entire body as a listening instrument, capable of feeling, touching and seeing the colours and textures of sound and silence in space.

IMPORTANT NOTICE ABOUT SEATING PLANS

The shows currently on sale for autumn/winter 2021 listed below have a new 'hybrid' seating plan. We have reserved our top (back) tier of seating for socially distanced groupings of one, two, three or four people. These 'bubble' seats have 2-seat gaps around them to enable people who are concerned about sitting closely together to have more space around them.

The front (bottom) tier of seating is not socially distanced. Current thinking around government guidelines on social distancing is that there will be no requirement for theatres to offer this.

We have taken the decision to offer this option and will be monitoring bookings and feedback closely so that we offer the best choices for our audiences.

We will keep ticket bookers informed of any changes to the guidelines for theatre attenders and will offer flexibility on returns and refunds if the situation changes.

Contact our Ticket Office on 0191 2610505 or info@dancecity.co.uk if you have any questions.