The Dan Daw Show - Dan Daw Creative Projects
Beautiful, messy and intimate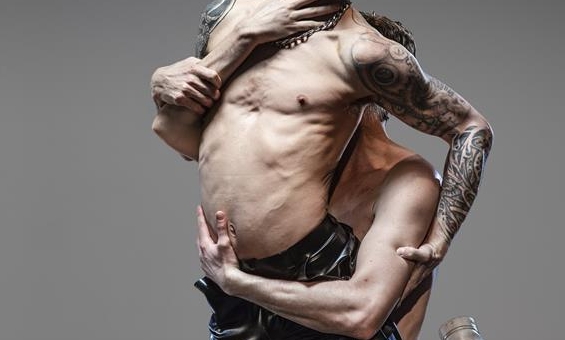 Running time:
approx. 70 mins
Tickets:
£13.50
£8.00 students,
£11.00 concession
After having spent a lifetime being an inspiration to others, Dan is finally seizing the moment to inspire himself.

Teaming up with theatre director Mark Maughan (The Claim, Petrification), Dan takes ownership of the beautiful mess that encompasses all that he is, and lets go of who he once was to make room for who he wants to be.

Dan is joined in an intimate evening of play by performer and collaborator Christopher Owen (Joe Moran, Scottish Dance Theatre) where Dan takes back the power by being dominated on his own terms.

The Dan Daw Show is a peep into the shiny and sweaty push pull of living with shame while bursting with pride. This is a show about care, intimacy and resilience, about letting go and reclaiming yourself.


*****************************************
Credits
Supported using public funding from Arts Council England through project grants, Co-commissioned in 2019/20 by Sadler's Wells, Arts House Melbourne, DanceHub Birmingham, The Lowry, Déda, Cambridge Junction, DanceXchange and Dance4. Supported by Shoreditch Town Hall, Candoco Dance Company and I'm Here, Where Are You? Festival. Research supported by Jerwood Choreographic Research Project II.

Creative Team
Artistic Director Dan Daw
Director Mark Maughan
Movement Director Sarah Blanc
Designer Emma Bailey
Lighting Designer Nao Nagai
Composition & Sound Design Guy Connelly
Dramaturg Brian Lobel
Artistic Peer Support Dr Kate Marsh

Performers & Collaborators
Dan Daw
Christopher Owen

Production Team
Production & Stage Manager Froud
Producer Liz Counsell

*Trigger warnings*

The company have advised the following trigger warnings:
"Depictions of kink experiences, suffocation, humiliation, dominant behaviour, sexually explicit depictions and language, descriptions of feeling othered, loud noises, flashing lights and sexy disabled people"


IMPORTANT NOTICE ABOUT SEATING PLANS

The shows currently on sale for autumn/winter 2021 listed below have a new 'hybrid' seating plan. We have reserved our top (back) tier of seating for socially distanced groupings of one, two, three or four people. These 'bubble' seats have 2-seat gaps around them to enable people who are concerned about sitting closely together to have more space around them.

The front (bottom) tier of seating is not socially distanced. Current thinking around government guidelines on social distancing is that there will be no requirement for theatres to offer this.

We have taken the decision to offer this option and will be monitoring bookings and feedback closely so that we offer the best choices for our audiences.

We will keep ticket bookers informed of any changes to the guidelines for theatre attenders and will offer flexibility on returns and refunds if the situation changes.

Contact our Ticket Office on 0191 2610505 or info@dancecity.co.uk if you have any questions.