Myths & Dreams - Fertile Ground
The world premiere of an ambitious triple bill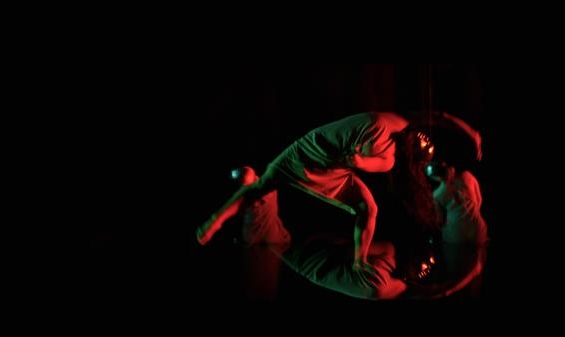 Running time:
approx. 1 hour 15 mins (including interval)
Tickets:
£13.50
£8.00 students,
£11.00 concession
Fertile Ground returns to Dance City with Myths & Dreams, an ambitious and innovative programme created by four choreographers. The Company's new season combines dance, film and digital sculpture in an imaginative evening performed by the cast of top North East emerging professional dancers.

Opening the bill is Labyrinth, a cross-disciplinary work by Fertile Ground Artistic Co-Director Renaud Wiser, freely inspired by the myth of the Minotaur. In contrast with the classical narrative, in Labyrinth the Minotaur is portrayed as a symbol of hybridity representing the complexities of modern times. In our creative process the dancers are immersed in a virtual environment created by sculptor Marie Lelouche and develop choreography in response to her sculptures. On stage, the performers' movement reveals this virtual maze brought to life by projections and a haunting sound design.

The second piece will be Plubel by rising European choreographers Fabritia D'Intino and Clémentine Vanlerberghe. A finalist in Boris Charmatz's Danse Élargie competition and performed at Sadler's Wells in 2019, Plubel is a hypnotic piece that finds individuality within a group and questions how the female figure is represented in dance.

Fertile Ground's Artistic Co-Director Malgorzata Dzierzon brings to the stage her new dance film Somnium. At the time of extended confinement during the pandemic, many of us have found ourselves sleeping and dreaming more. Somnium wants to capture and express our dreams, memories, anxieties and desires at this time of change. Somnium is a collaboration with filmmaker Filipe Alcada and composer Oliver Coates and is a Dance City 2021/22 Commission.


Labyrinth Virtual Reality Experience
6-7.20pm and in the interval

Ahead of performances, there will be an opportunity to experience the virtual sculptures by signing up to a short virtual reality immersive experience. Wearing VR headsets, immerse yourself in the virtual reality maze created by Marie Lelouche and navigate the virtual landscape of Labyrinth's hauntingly beautiful digital sculptures. Places are limited and free to ticket holders. To book your place email ad@fertileground.org.uk by 5pm on Wednesday 13 October.

POST-SHOW Q&A
There will be a Q&A session and talk with the creative team following the performance.



IMPORTANT NOTICE ABOUT SEATING PLANS

The shows currently on sale for autumn/winter 2021 listed below have a new 'hybrid' seating plan. We have reserved our top (back) tier of seating for socially distanced groupings of one, two, three or four people. These 'bubble' seats have 2-seat gaps around them to enable people who are concerned about sitting closely together to have more space around them.

The front (bottom) tier of seating is not socially distanced. Current thinking around government guidelines on social distancing is that there will be no requirement for theatres to offer this.

We have taken the decision to offer this option and will be monitoring bookings and feedback closely so that we offer the best choices for our audiences.

We will keep ticket bookers informed of any changes to the guidelines for theatre attenders and will offer flexibility on returns and refunds if the situation changes.

Contact our Ticket Office on 0191 2610505 or info@dancecity.co.uk if you have any questions.