The Collective: Double Bill 2022
Dance City's MA Company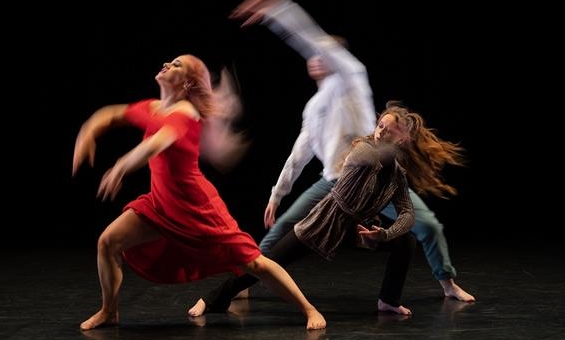 Running time:
Approx 1 hour
Tickets:
£9.50
£8.00 students
The Collective is Dance City's MA Advanced Dance Performance Company. Twelve exciting early career dancers form the 2021-22 cohort. This new double bill will feature two works, created by notable choreographers Lucy Suggate and Victor Fung.

DRIFT//BONE//SAND//STONE – choreography by Lucy Suggate

This work is an exploration into different ways the body can experience and feel time.

What happens if we move away from measuring our experiences through numbers, logic, reason, consumption and productivity and place our attention and focus into multiple speed settings, so that we all may resonate a little deeper with the world around us.

THE WAY THINGS CHANGE – choreography by Victor Fung

We make decisions. We take actions. We act and we react. Because we believe what we do makes a difference in the outcome.
The Way Things Change explores agency and power in interactions, revealing the intricacies of how we negotiate with others in finding our roles in different circumstances. How do we deal with the constant change that is life when we feel that we are losing control of everything around us? Perhaps it is in one another that we can find the strength to keep us going.

Lucy Suggate is a dance artist and choreographer based in Yorkshire and Scotland. Making working since 2003 she is recognised for her articulate and engaging solo performances as well as choreographic installations and public scores inspired by aspects of synchronicity and cooperation. Her work has been toured extensively (inter)nationally at SONAR, Barcelona; Rencontres Chorégraphiques, Paris; Seoul International Dance Festival; Dance Base, Edinburgh Fringe; The Place Prize; Juncture Festival, Leeds; Nottdance, Nottingham.

Her movement practice is an ongoing inquiry into the perceptual and physical expansion that occurs when engaged in long-term moving and thinking. A lot of her current focus is around what to choreograph in the age of crisis, how the moving-dancing body can respond and survive such hostile and turbulent times by rethinking sustainability, built upon bodily knowledge and revisioning future dance production models as ethical, dynamic and flexible operations.

Victor Fung is an award-winning choreographer, performer, researcher, educator, and mentor. He is the Artistic Director of Victor Fung Dance and MA Associate Artist & Senior Lecturer at Dance City. He was recently Associate Artist at Swindon Dance and recipient of the DanceXchange Choreography Award. Victor's choreographic works have been presented across four continents, funded and commissioned internationally by organisations such as Arts Council England, Chisenhale Dance Space, City Contemporary Dance Company (HK), Dance Base (Scotland), Hong Kong Arts Festival, Hong Kong Arts Development Council, and San Francisco International Arts Festival amongst others. He has been involved in various international networks including CROWD (2021), OzAsia Dance Lab (2017-2019), and SPAZIO (2013-14). Aside from his artistic practice, he is highly involved in the cultural sector through his roles as Clore Fellow (2016-17), Established Leader of Creative Leadership at School for Social Entrepreneurs, and Trustee of Swindon Dance amongst others. He was awarded a doctorate for his research in creativity and dance training in collaboration with Middlesex University and Dance4.