Feeling Thing, and other selected film works
An evening of selected film works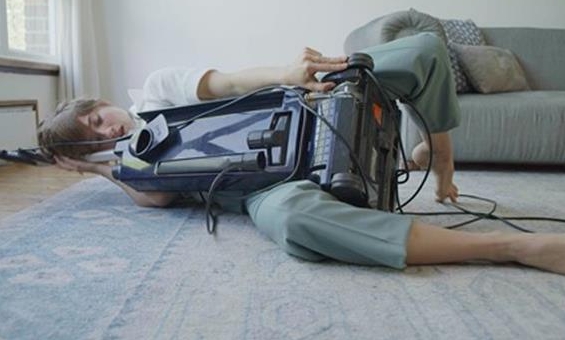 Tickets:
£8.00
£8.00 students
Dance City welcomes you to the Theatre for an evening of film, curated by Lizzie Klotz.

The screening is centred around Candoco Dance Company's newest dance film Feeling Thing by Jo Bannon, alongside other selected film works that are created or performed by disabled people, including Forest Floor by Robbie Synge and Julie Cleves, Sanctuary by All Bodies Dance Project, Signs by Louise Stern, and Ashleigh featuring Ashleigh Ritchie and produced by Northern Stars Documentary Academy at Tyneside Cinema.


FEELING THING

Matter is lively. If you play the right frequency to your kitchen table, it will explode. You may not have noticed, but your iron has a certain swagger as it glides over polyester. Those of us with the lived experience of disability may already know something of this potential intimacy, this strange kinship, as we dance the daily duet between our bodies and the people, objects and technologies that support us.
Candoco Dance Company invite you to retrain your sensitivity to the liveliness of everyday objects in their latest film Feeling Thing by multi-disciplinary artist and choreographer Jo Bannon.

In Feeling Thing, the camera captures three intimate duets between object and performer. The ASMR sound encourages you to listen closely and sense the life in them, inviting you to lean into feeling as a sensory, illogical, uncanny space where all things are alive.

Feeling Thing is funded by Candoco Dance Company and Arts Council England, and the screening is supported by Esmée Fairbairn Foundation as part of the Inside Out / Outside In project.

The screening will finish with a live Q&A with Candoco Dance Company, and will be BSL interpreted.


SANCTUARY
By All Bodies Dance Project

Sanctuary features two bodies searching for calm inside the sounds and sights of an urban landscape. Harmanie and Rianne ask the question inside and outside their bodies: how can we create a sanctuary for an embodied experience in a public space? How does dance and embodiment change this public scene? And how are our bodies affected by the public gaze, and by one another?

Sanctuary was co-programmed by Sophia Wolfe and Vancouver-based dance film festival F-O-R-M.


SIGNS
By Louise Stern

SIGNS is an unprecedented look at how written and signed languages filter the emotional response to iconic artworks. Including artworks and written responses gives people a frame of reference to understand how reactions are filtered.



FOREST FLOOR
By Robbie Synge and Julie Cleves

Shot in Abernethy Forest in The Cairngorms, Forest Floor considers different bodies and physical access challenges in a rural location. Close friends Julie and Robbie sit quietly together on the ground, a simple idea requiring a novel approach.


ASHLEIGH
Produced by Northern Stars Documentary Academy at Tyneside Cinema

A moving portrait of one woman's struggle to pursue her life-long passion of becoming a dancer. Born with cerebral palsy, and told as a child that she would never be able to study or work in the mainstream, Ashleigh refused to take 'no' for an answer and today is an inspiration to others.


ACCESS
This screening of Feeling Thing will be Closed Captioned.

An Audio Described version of the work will be made available to ticket holders in advance of the performance.