BA Year 1 and 2: End of Year Performance
Showcasing BA student talent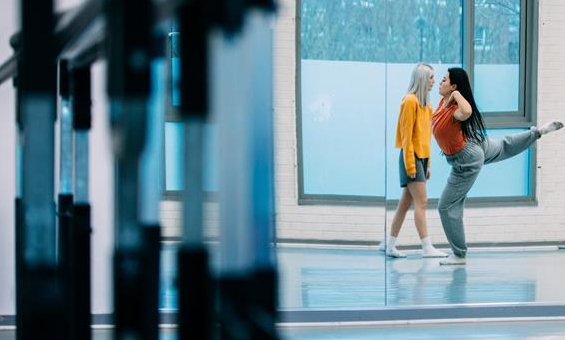 Tickets - Pay What You Feel
£0 / £3 / £5
£8
£10
Tender Smash - Sarah Blanc
Using punk ideologies, this piece explores what makes our blood boil and our hearts pound. Taking inspiration from lyrics and music from bands such as Bikini Kill, The Slits and The Breeders, watch us as we smash onto the stage with our high energy movement and tender thoughts. Nothing will be left unsaid.
Skywards - Sophie Douglas
Inspired by the dancers themselves and their motivations, inspirations, memories, and hopes. The piece has been made collaboratively, and explores the physicality of growth and resistance, mirroring a journey in nature to reach towards the light.
To Take, To Give, To Share - Giulia Coti Zelati
This is a piece about Tilda, Charlotte, Jess, Georgia, Daisy, Kate, Courtney and Kieron. Created collaboratively, To Take, To Give, To Share explores how, as individuals, they become a group, and how, as a group, they remain individuals. Inspired by images of waves, wind and flocks of birds, the dancers play with taking, giving and sharing space with one another as people, as movers and as friends.
Broken - Gaurav Bhatti
The piece 'BROKEN' that Gaurav Bhatti, Repertory Member Aditi Mangaldas Dance Company – The Drishtikon Dance Foundation is an extract of a larger production 'WITHIN' choreographed by noted Indian dancer and choreographer Aditi Mangaldas. The extract 'BROKEN' is originally choreographed in 'WITHIN' as a solo and explores the consequences of the choices one makes in one's life. Within each human being lies in half embrace, humanity and brutality. 'BROKEN' is when brutality is allowed to overtake humanity, and the resulting consequences of that happening. The devastation that it brings about in the world and to humanity at large. In today's context this is very important. One decision, by one person impacts the entire world and can cause much devastation and heart break. Gaurav will explore this concept and make the original choreography the peg and the trigger. He will use the work as an inspiration, from which he will re-imagine the solo work and explore it as a group work making it reflect the concerns of today, revealing the consequences of a brutal world.
Find out more about our guest choreographers through
this link