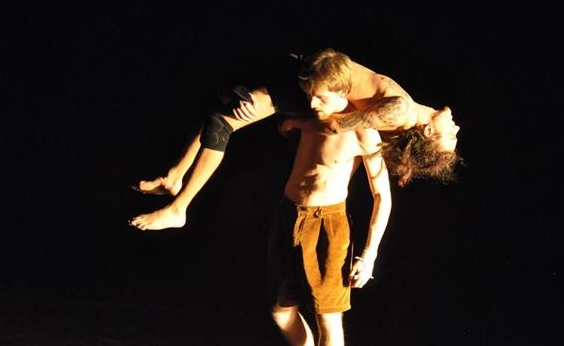 Running time:
approx 1 hour
Dance Edits is a night of new work by dance makers based in the North East. The pieces are all short (5-10 minutes), and the work will be extremely varied. There are 8 different pieces commissioned by Dance City in a range of styles. If you want a snapshot of contemporary dance it's a really good event to attend to explore dance and find out more.

Adam Russell, Looking Outside From the Inside
Adam is a freelance dance artist from Carlisle. Humanity and honesty are at the heart of his work and he believes in making dance that all audiences can enjoy.

Surface Area Dance Theatre, Raft
The story of a man alone on a raft. In his solitude he develops a greater understanding of why he is there.

Newton's Ladder, Just the 3.14 of Us
Newton's Ladder take a different approach to aerial dance. In this piece they use a short rope hung as a pendulum to uncover the journeys that lie between the moment of lift and the moment of landing.

James Southward, Boy
Boy is still in the early stages and still has the potential to go anywhere. James wants to use this platform to acknowledge something which was, thank it and then bid it farewell. "I suppose it is like the ticking crocodile isn't it? Time is chasing after us all", J.M. Barrie, Peter Pan.

Tim Rubidge, The Hope Etudes
Tim learnt his practise 40 years ago under Sigurd Leeder, through learning etudes – miniature studies that explored many themes. With The Hope Etudes Tim has challenged himself to create a hopescape – a way of coping with crisis, opening himself up to new possibilities, and creating hope.

Lizzie J Klotz, To Suit
To Suit explores body language as a means of conversation, commenting on the social processes and formalities of human relationships, and comparing them to animal courtship rituals.

Viv Wood & Co, Butterfly Effect
This new work explores tipping points; a moment when our whole life turns around on its axis and we know things will never be the same. This piece is about the fact that however strange these moments are, they can be beautiful, funny and lovely as well.

Tess Chaytor, Crushes and Blushes
A piece developed by TIN Arts' Artistic Director as part of a continuing exploration of how inclusive training and practice translates into public performance.

#danceedits

Please note: some performances have a no latecomer's policy. Please bear this in mind when making time for your journey. Thank you.