MA Advanced Dance Performance

Led by David Lloyd who joins Dance City from dancing with Jasmin Vardimon Company and leading JV2, this brand new post-graduate qualification will launch your performing career.
Cost: £9,500
Start date: 14 October 2019
Audition Dates: 
Open Auditions have now closed however Dance City is inviting students to audition via video for the MA Advanced Dance Performance.
Next steps:
Send a 90 sec video of you dancing an improvised solo, your C.V. and a headshot photograph to Pip Kyle pippa.kyle@dancecity.co.uk via We Transfer or Dropbox. Video auditions will be considered on a first come first serve basis so if you are interested in pursuing the course we recommend you apply as soon as possible.
About the MA Advanced Dance Performance
Delivered by Dance City this brand new MA programme starts in October 2019. This 43 week programme is a practice based qualification which offers new and recent dance graduates the opportunity to develop their dance practice and technique, learn and develop choreography and perform their work.
MA participants will be part of a touring company creating exciting new work, led by David Lloyd, a well-known and highly respected dance artist, choreographer, educator and producer. Daily technique classes as well as regular workshops will ensure the company is well prepared to perform extensively across the UK.
Why Choose the MA Advanced Dance Performance?
Increase your earning and employability potential.
Learn from leading sector professionals.
Access state of the art facilities at Dance City.
The course will be based at Dance City's flagship venue in Newcastle and brand new studios at The Fire Station in Sunderland.
Who is it for?
New and recent dance graduates. 
What will you study?
This is a 43 week course.
Dance Technique:
Advanced technical training in ballet and contemporary styles
Complementary techniques – pilates, fitness training, strength and conditioning
Dance Performance:
Rigorous and detailed study of selected repertoire works
Development and performance of 3 x newly commissioned works
Touring of created works
Professional Contexts:
Development and realisation of a choreographed work, delivery of teaching sessions or a cross-arts project (film, installation etc)
What Can I Expect to Develop?
Improved dance technique across a variety of styles
An advanced understanding of choreographic practice
An advanced understanding of how to work with choreographers
An advanced understanding of how to work as part of a team/ company
An advanced understanding of creative choreographic input within a company
A better understanding of the dance touring landscape and opportunities
The capability to reflect on learning and express this to another
Deeper understanding of current choreographic/dance trends
Ability to absorb different learning methodologies and embody them
About the Course Leader
David Lloyd joins Dance City from dancing with Jasmin Vardimon Company and leading JV2. He graduated from the Western Australian Academy of Performing Arts (WAAPA) in 2006 and immediately commenced a successful performing career. David moved to London in 2008, working with Luca Silvestrini, Gary Clarke, Mad Dogs, Neon, Barebones and Jasmin Vardimon over the next few years. Film and TV credits include BBC's Atlantic series 1 playing the role of Nereus and Paramount Pictures World War Z.
David started Mischief Company in 2014 with Natascha Metherell, a director working with Terry Gilliam. Mischief Company has produced and toured a number of works and grown to a Company of 14.
David says, "I want to build a course to nurture talented individuals to push them beyond their limits and create employable performers and dance artists ready for the tough industry ahead. I want to create a course that builds both individual qualities and also brings them into a professional company. Giving them a vast knowledge of skills, business minds and professional expectations to develop a new strong company to push boundaries in the dance sector."
David will choreograph one of the three touring pieces, alongside two guest choreographers.
About the Guest Choreographers
We are delighted to have secured Gecko to make one of the new works that the MA Company will perform on tour.
Gecko is an award-winning and critically-acclaimed physical theatre company, founded in 2001 by Artistic Director Amit Lahav. The company is based in Ipswich, Suffolk but regularly tours across the UK and across the world. Gecko aim to create world-class theatre that inspires, moves and entertains audiences. Gecko's work is visual, visceral and ambitious and is created through collaboration, experimentation and play.
For Gecko, the focus is always on using movement, imagery and music to present the narrative of their shows, rather than focusing on dialogue between characters. With an ever expanding ensemble of international performers and collaborators, Gecko's work is truly global and the company continues to create strong partnerships around the world.
"Education has always been a vital strand of our work and it's our hope that students across the country have the opportunity to experience Gecko's unique style and process as part of their training. We're hugely excited to be partnering with Dance City on this innovative new MA and can't wait to be back in Newcastle." Amit Lahav, Artistic Director of Gecko
Find our full list of guest choreographers for academic year 2019/2020 here.
Timetable:
*May be subject to change.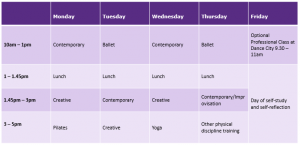 Where is it based?
Lectures and seminars will take place at Dance City's Newcastle and Sunderland studios where you will find excellent facilities in the dance studios and a state of the art theatre space. Independent learning space for practical work is allocated at Dance City in Newcastle and Sunderland for Masters level students to develop their projects and undertake practical self-study.
IT, library and Virtual Learning Environment (VLE) resources are accessible through the University of Sunderland.
You can also access a range of student support services, student accommodation and generous scholarships through the University of Sunderland.
The University Library subscribes to a comprehensive range of academic journals and databases so you can access reliable and up-to-date information.
The experienced Library team provide a high-quality service and are sensitive to the requirements and working methods of students. A dedicated Academic Liaison Librarian supports students and staff in the arts, design and performing arts disciplines.
Students are encouraged to develop their research skills, working with lecturers and library staff to cultivate their knowledge of contemporary and historical perspectives of performing arts, as well as the wider contexts of their subject.
The key resources for your course include:
Discover: The Library's multi-disciplinary search tool
Art Full Text: A major resource for media and arts information
Dance in Video: Giving access to dance productions and documentaries in the 20th century
JSTOR (short for 'Journal Storage'): Providing access to important journals across the humanities, social sciences and sciences
Lexis: A major resource of full-text newspaper articles and legal information
What are the Entry Requirements?
Undergraduate degree in dance and/or relevant professional performance experience.  
How can this course be funded?
This course can be self-funded or student loans apply.
View more information about government career development loans and grants:
Grants and Bursaries for Adult Learners
View Career Development Bank Loans:
Professional and Career Development Loan
Professional Career Development Loan
Find more information and advice on financing your MA Degree here.
How to Apply
Dance City is inviting students to audition via video for the MA Advanced Dance Performance. Course Leader, David Lloyd, has created a standing phrase and asks for this to be learnt, recorded and sent via video to Programme Coordinator Alex Anslow along with an improvised solo of around 90 seconds.
Next steps:
Contact Jessica Leaman at jessica.leaman@dancecity.co.uk , expressing your interest in auditioning via video.
Jessica will send you the standing phrase via We Transfer.
Learn the standing phrase and record a final version of it.
Create an improvised solo and record a final version of it.
Send the standing phrase, the improvised solo, your C.V. and a headshot photograph to Alex Anslow alex.anslow@dancecity.co.uk via We Transfer or Dropbox.
Video auditions will be considered on a first come first serve basis so if you are interested in pursuing the course we recommend you apply as soon as possible.