In Motion (16+) SD
Dance for adults with additional needs
Additional Needs Class
Newcastle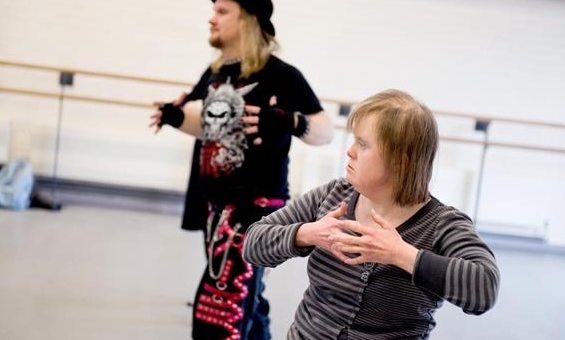 Class times:
Every Monday 11:00am-12:00pm
Please note: Carers or Support Workers must accompany the participants in the class and have a Carer ticket to account for studio capacity.

What is it? Our In Motion class is for adults with learning disabilities. The class is inclusive, upbeat, creative and energetic. We move to a range of music styles and genres and learn through different styles of dance. We also utilise a range of props (in line with covid policy) to help with creativity, focus and performance work. All aspects of the classes are non-judgemental and done in a safe environment made for expression, adaption, creativity, exploration and most of all fun! Led by an experienced dance practitioner leading inclusive dance in various community settings aiming to make dance accessible to everyone.

Who is it for? Anyone aged 16+ with additional needs.

What should I wear? Comfortable clothing, trainers or socks.

Teacher: Molly Stroyan
Molly Grey is an experienced community dance practitioner based in the north east. She specialises in inclusive dance for those with learning disabilities and those living with neurological and palliative conditions.
Molly has trained in many styles of dance from a young age including tap, ballet, stage and contemporary. Having achieved first class BA (Hons) degree in Dance, Performance and Teaching and a Merit award for PGDip in Community Dance, she brings together an eclectic mix of styles and music to her inclusive classes. Molly's classes are a safe, fun, and happy space for creative exploration and learning new dance skills.
Molly is currently training to become a Dance Movement Psychotherapist which will in turn help inform the theory behind the specialist classes she teaches here at Dance City.

COVID -19
Studio classes must follow social distancing rules, please keep a 2 metre distance where possible. Due to reduced capacity studio class tickets are very limited. This is a hybrid class. Some people will be taking part in the studio with social distancing, while some will be taking part at home via Zoom. There will be a camera and screen in the studio live streaming the class into Zoom participants' homes.

Masks must be worn around the Dance City building. There is a possibility that you will be asked to keep your mask on during class. Go straight to your studio when you arrive and tell the teacher your name. The café remains closed for now. Drinking fountains, lockers and showers are currently out of use to reduce risk of contamination. Please bring your own bottles of water, yoga mats, dance shoes and any other items as Dance City cannot supply these.

Do not attend Dance City if you have possible Covid 19 symptoms. Inform us immediately if you have attended and develop Covid 19, so that we can implement Track and Trace. We are taking every reasonable precaution to protect the health and safety of our staff and building users.