In Motion (Adults)
Dance for adults with additional needs
Additional Needs Class
Newcastle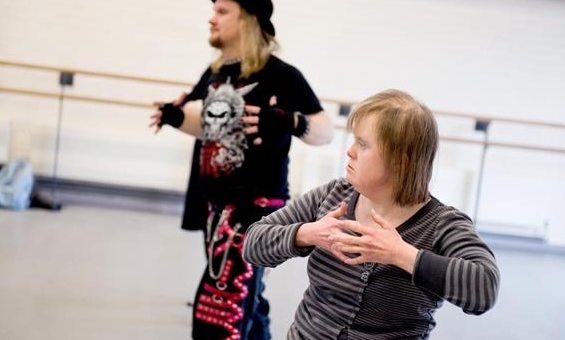 Class times:
Every Monday 11:00am-12:00pm

*Carers accompanying class attendees MUST book a free Carer Ticket*

Please note: Carers or Support Workers must accompany the participants in the class.

What is it? Our In Motion class is for adults with learning disabilities. The class is inclusive, upbeat, creative and energetic. We move to a range of music styles and genres and learn through different styles of dance. We also utilise a range of props to help with creativity, focus and performance work.

All aspects of the classes are non-judgemental and done in a safe environment made for expression, adaption, creativity, exploration and most of all fun! Led by an experienced dance practitioner leading inclusive dance in various community settings aiming to make dance accessible to everyone.

Who is it for? Adults with additional needs.

What should I wear? Comfortable clothing, trainers or socks.

Teacher: Molly Grey

Molly is an experienced community dance practitioner based in the north east. She specialises in inclusive dance for those with learning disabilities and those living with neurological and palliative conditions.

Molly has trained in many styles of dance from a young age including tap, ballet, stage and contemporary. Having achieved first class BA (Hons) degree in Dance, Performance and Teaching and a Merit award for PGDip in Community Dance, she brings together an eclectic mix of styles and music to her inclusive classes. Molly's classes are a safe, fun, and happy space for creative exploration and learning new dance skills.

Molly is currently training to become a Dance Movement Psychotherapist which will in turn help inform the theory behind the specialist classes she teaches here at Dance City.