Musical Theatre (Adults)
Inspired by the West End and Broadway stage
Adult Class
Newcastle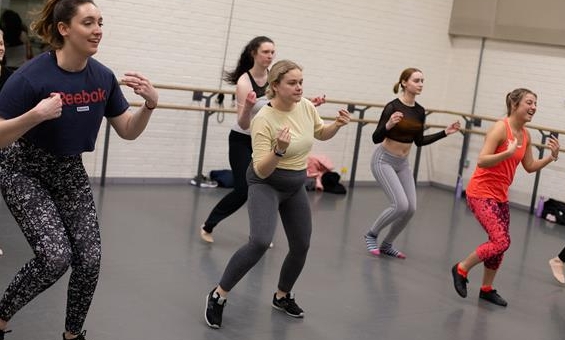 Class times:
Every Tuesday 6.30-7.30pm
Targets: cardio, full body workout.

What is it?
If you love musicals, you will love this class! This fun, fast paced Musical Theatre class draws inspiration and choreography from the West end and Broadway musicals. Each class will begin with an aerobic warm up and stretching to enhance blood flow and to increase flexibility. You will then be taught choreography to a diverse range of Musical Theatre numbers. (New choreography will be taught each week) This class has a strong emphasis on preparing you for performance opportunities in Musical Theatre.

Who is it for?
Adults of all ages

What should I wear?
Wear comfortable clothing with indoor trainers or jazz shoes.

What do I need to bring?
We recommend bringing a bottle of water with you to class.

Teacher: Catherine Muckle.

Catherine is a professional dancer based in the north east with over 8 years performance and touring experience in a range of styles: Contemporary, Musical Theatre, Jazz, Acrobatics, Parkour & Commercial.

Please let the ticket office know if you have any additional needs, if you feel comfortable in doing so. If you are pregnant, have an injury or an existing medical condition we would recommend that you seek professional advice before attending a class.