Hang Aerial (Adults)
Trapeze, aerial hoop, cocoon and silk
Adult Workshop
Newcastle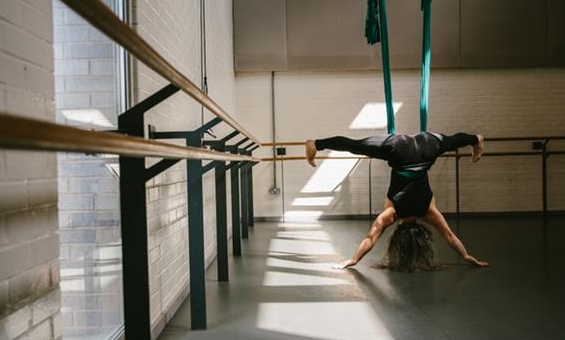 What is it?
A unique and challenging workshop in which you will use trapeze, aerial hoop, cocoon and silks, building strength and technique. You will work in a small group with people of similar experience. After a warm up with special attention to backs, necks, hands and forearms your group will rotate around the four pieces of aerial kit. You will learn good technique, new skills and have time to practice.

Aerial is a great way of keeping fit, improving mobility and having fun! Improving strength is one of our main focuses in aerial and you will get a full body workout from a class. Aerialists are especially strong in their upper bodies and core.

PLEASE NOTE - No latecomers will be admitted as essential health & safety information/techniques are given during the warm up. We require at least 7 days' notice if you would like to cancel or exchange your ticket once booked.

Who is it for?
Adults of all ages. Anyone who is up for the challenge and joy of hanging upside down - total beginners welcome

What should I wear?
Comfortable clothing, which should cover the backs of your knees, torso and armpits. Please avoid wearing zips, buttons or jewelry and avoid long nails, to any Hang workshop as they can damage the equipment.

What should I bring?
Bottled water

Teacher- The hang aerial dance tutors are all experienced aerial dance teachers and performers. The class has two tutors (a combination from Lynn, Jane, Jane and Sarah)

Please let the ticket office know if you have any additional needs, if you feel comfortable in doing so. If you are pregnant, have an injury or an existing medical condition we would recommend that you seek professional advice before attending a class.