We spoke to local artists Megan Brown and Jenny Chrisp aka What's That Dance to find out more about the company, their latest Dance City commissioned piece 'dare you: Question The Love Between Girls' and the impact of lockdown on both their creative process and Pride celebrations that were due to take place this month.
Tell us a little bit about yourselves…
We graduated from Dance City Training Academy in 2017 and 2018, and after working in the industry independently we began exploring our own choreography. We initially started discussing masculine and feminine qualities in female relationships; romantically and family relationships. This is where "dare you: Question The Love Between Girls" developed from and after receiving a bursary from Curious Arts for a scratch performance, we were able to put our idea into a performance piece. We co-created Whats That Dance upon receiving this bursary.
"dare you: Question The Love Between Girls" is a dance theatre work that highlights and challenges issues surrounding female relationships, gender stereotypes and sexuality. The stories in this work are currently all from our own experiences as women. As this work develops we hope to include other women's experiences and stories. This work was awarded the Charlotte Grant early career artist commission for 2020/21.
Alongside developing our artistic practice we work as community dance practitioners, leading sessions in care homes to residents with Alzheimer's and other forms of dementia, for adults and children with various learning disabilities, as well as leading dance sessions at schools across Newcastle. We run weekly movement classes in South Tyneside for older women aged 65+. This class improves strength, balance and overall fitness whilst combatting social isolation. This class is the highlight of our week!
How would you describe your style of work? 
A mix of comedic and emotive story telling. For us, dance connects your emotions, feelings and thoughts to your physical being but it also forms human connections which we have seen in the community's we work in. This has influenced the how and why we create the work we do.
Who have been your biggest inspirations to your work and practice? 
Over the last 3 years, we have been lucky enough to work with some incredible female choreographers such as Nadia Iftkhar, Liv Lorent and Anna Watkins. These women create important work that empowers women which has inspired us to explore our own experiences.
Our latest work "dare you: Question The Love Between Girls" which has been commissioned by Dance City, highlights and challenges issues we have faced surrounding sex-ism and homophobia. Our experiences are individual to us however, instances of sexism and homophobia against women are scarily common. We are inspired by the strength and resilience women have just to express themselves as who they are, and are passionate about creating work that highlights this.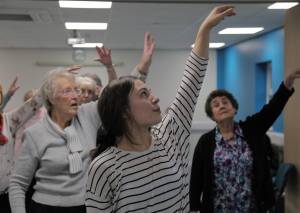 Pictured: Falling on Your Feet session in South Shields. Image by Dan Alecks.
What does Pride mean to you, and how have you found the impacts of coronavirus on this year's celebrations? 
Pride this year has been a little different to usual. We haven't had the opportunity for everyone to get together for a joint celebration because of social distancing restrictions. This has actually been good as we have had the opportunity to reflect on what pride really is and where it all started from.
With the Black Lives Matter Movement soon becoming the largest movement in U.S history, we are reminded that we have the Black Trans and Lesbian community to thank for being able to celebrate pride every year. Thanks to Marsha P Johnson, Sylvia Rivera, and Stormé DeLaverie, the LGBT+ community were able to fight back and protest for their human rights by leading the Stonewall Riots.
Pride for us is a celebration of inclusivity and the importance of championing everyone! Unfortunately, in the UK, Trans rights are being revoked. This includes the government ditching plans that would allow people to legally change their gender and safeguarding female-only spaces. This further marginalises the Trans community and takes away their human rights which are integral for the survival of Trans lives.
If we have learned anything this year, it's that we all have much more work to do and much more to learn.
Have you still been creating under lockdown? 
With all of our work being cancelled before going into lockdown, we have been fortunate to still have our commission from Dance City to focus our time on. This time has allowed us to really develop our ideas and set plans in motion for when we can start creating together again!
We have been keeping in touch with weekly zoom calls to discuss work and catch up. We're very close and normally we would see each other almost every day so this has taken some adjustment!
Individually, we have been trying to keep moving and found the love of dancing and creating for ourselves, something which we rarely had the opportunity to do before lockdown.
Has lockdown changed the way you approach your work? 
Lockdown has made us think about creating work that is accessible outside of the thea-tre. Our plans for our "dare you" project have changed dramatically. We have had to think of new ways for community engagement with the unpredictability of the future. It has pushed back the timeline of this work which was really frustrating for us as we want to keep this project moving.
We have tried to make what could have been a negative experience into a positive one, by being realistic and focusing on how this work can be the best it can be within these circumstances.
When the industry starts to get back to a 'new normal' what would you like to see change for the better? 
In the "new normal' we would like to see more diversity across the industry. We do not see a true representation of our diverse community in our art spaces and that needs to change.
Performances have been easy to access if you have the internet and a phone/laptop/tablet, we would like to see performances stay as accessible with more options outside of the theatre and initiatives for things like cheaper tickets.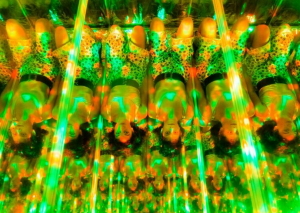 Pictured: on set filming Cortney Dixons music video for "What You Wanna Do". Image by Eddy Maynard. 
Digital dance has been popular during lockdown. Do you have any favorite classes and performances that you can recommend to others?
One of our joint favorites has been our friend Alyssa Lisle's contemporary class. This is a weekly evening class on a Monday and really gets you set up for the week! All abilities welcome! Give her a message on her social media for the zoom link. Any donations welcome. Instagram: @alyssalisle
Another class for all abilities is the super uplifting Sweat Fest by Ryan Heffington. This joy filled dance aerobics class is an amazing way to have fun and keep fit! These classes do differ so check on his social media when they will be running that week and are completely free on Instagram live! Instagram: @ryan.heffington
Giulia's Home Ballet is an online ballet studio in which you can pay for a class and its sent to you at the beginning of the week for you to do as many times as you like! We recommend the ballet workout class where Giulia takes you through numerous exercises which work to strengthen the whole body! Follow the link on her Instagram for classes. Instagram: @giuliashomeballet
A class aimed at professional dancers which we recommend is Synchronising by Kamienski. This class is an hour of continuous movement which goes through exercises into a led improv and celebrates the joy of moving! The class is challenging but very positive, with the sense of dancing with everyone involved. The class is an hour long once a week. Each class will be fundraising for a different charity/organisations supporting Black Lives Matter. Go to the companies Instagram for more info on how to join! Instagram: @kamienski.co
Gaga Online with classes for dancers and people. 6 classes a day 7 days a week for you to choose from led by Gaga trained teachers live from Tel Aviv and New York city! You must register in advance for these classes and can do via the website. Suggested donation of $5 dollars per class which goes directly to Gaga teachers. Find out more here. 
Gateway Studio have a great selection of FREE online classes for all abilities with some incredible teachers! From Afro-Funk, Zumba, Ballet and Contemporary. Follow their social media for more details on how to sign up for the classes! Facebook @Gateway Studio, Instagram @gatewaystudiocio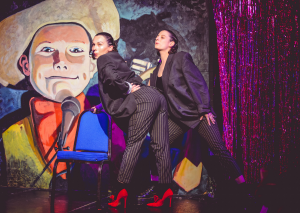 Pictured: PUG #8 at The Stand Comedy Club, Newcastle. Image by Bish.
In terms of performances we have watched or are looking forward to watching:
Dancing at Dusk – A moment with Pina Bausch's The Rite of Spring
In this stunning film, Pina Bausch's iconic choreography The Rite of Spring is danced in an extraordinary setting, on the beach in Toubab Dialaw, Senegal. It captures the last rehearsal of a specially assembled company of 38 dancers from 14 African countries.
You can rent this film for £5 and it is available till the end of this month! Watch it here. 
Revisor- Crystal Pite and Jonathon Young
A performance capture of Revisor, the critically acclaimed dance-theatre production created by award-winning choreographer Crystal Pite and playwright Jonathon Young, based on Nikolai Gogol's play The Government Inspector.
Young and Pite revise an archetypal comic plot to serve as the basis for a production that blends contemporary theatre and dance. Revisor explores conflict, comedy, and corruption in the potent relationship between language and the body. Watch it here. 
Dandyism – Patrick Ziza presents Yogoko
This will premier on Summer Streets YouTube channel at 7pm on Friday 17th July and then will be available to watch throughout the festival. Dandyism is a celebration of style and cool. It is centuries old. In Africa it began as a defiance against slavery in the 18h century and a resistance movement. Today it is an international phenomenon, preserving a legacy of African culture, promoting peace and acceptance in an ever-divided world. Watch it here. 
The Princess and The Show Girl – Thick & Tight Dance
An imagined meeting between Marilyn Monroe and Princess Diana. Thick and Tight examine their lives from within and without, from personal and public memory. The work Dramatises the similarities between the lives of these two women , the sadness of their childhood, the vast fame, the hounding by press, the very public love affairs and the mysterious unsolved deaths. You can watch this on the Thick and Tight website! Watch it here. 
Tell us about what you're working on at the moment and how can people get involved? 
As we said we're really focusing on our commissioned work "dare you: Question The Love Between Girls". Due to restrictions from the government, because of covid-19, this work will now become a dance film which we are really excited about!
We hope this will make this work more accessible to audiences without having to rely on theatres and venues being open. New exciting projects are in the works also, so keep an eye on our social media channels if you would like to find out more about us and keep informed on opportunities to work with us in the future!
Follow What's That Dance on Facebook and Instagram and tune into Dance City's Instagram story this Thursday as the company takeover and give an insight into what they've been up to under lockdown.
Lead image from FRESH North East by Camilla Greenwell.