Tell us a bit about yourself…
Originally from Canada, I am Co-Artistic Director of Fully Booked Theatre. I trained at The Professional Programme of the School of Contemporary Dancers (in Winnipeg). I worked with Winnipeg's Contemporary Dancers for five years before moving to London, where I freelanced for a decade, making my own work and performing for choreographers including Rosie Kay, Luca Silvestrini, Gary Clarke, and Sidi Larbi Cherkaoui. Currently I am a Senior Lecturer at Teesside University. I've made five major works in the UK: Traveller and Unraveller (in collaboration with the London College of Fashion), Satyricon, REPLICAS, Space Rebel Princess, and Once Upon a Wall.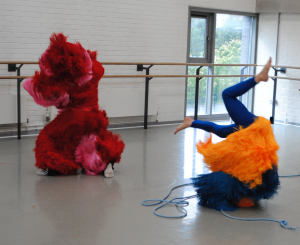 How would you describe your style of work? 
Fully Booked Theatre creates interactive dance theatre for children and families. For our new work, How Long is a Piece of String?, our inspiration comes from clowning, slapstick, animation, and interactive technologies like Touch Me and Makey Makes and combining these with sound triggers.
Did you do any creative work during lockdown? 
Yes! I tried to find ways to make interactive activities online. It was hard. I made lots of films. I learned that I love making and editing films.
Has the lockdown changed your working processes? 
For How Long is a Piece of String? I had a lot more conversations before going into the studio to start physically working. I have a shared Google Drive with my team so that we can share work and ideas while still being physically apart.
It was so nice to be back in a studio again (a fortnight ago at Dance City) so I know that that is still a very important part of my practice. Essentially the work that I enjoy most exists with people in a room together sharing a physical experience. I am thinking on more intimate scales now.
In terms of creating a sustainable model for the company we are definitely looking at our digital presence and how we can innovate.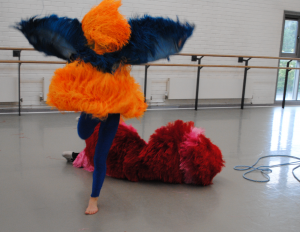 When the industry starts to get back to a 'new normal' what would you like to see change for the better?
The Tees Valley is quite diasporic and split apart geographically, so it's been really nice to be able to get in touch with people digitally and to connect people and communities together. It's also convenient for my own work, being able to take a class from a teacher in New York or being able to discuss projects with theatres across the country without having to spend so much time and money travelling.
There has been so much support, training, and advice made available. I hope that this care for each other remains for a long time to come.
Digital dance has been popular during lockdown. Do you have a class you can recommend to others?
I have found these Gaga classes really fun.
Tell us about your latest project..
I'm working on How Long is a Piece of String? The idea I had was to try to tell a story for children through movement and sound alone. The costumes (by Emily Rose Spreadborough) really amplify the dancers' movements and the sound design (by Jovana Backovic) is really exciting. It will have interactive elements where audiences can create sound through touch and can even record their voices to become part of the performance's score.
How can people get involved? 
We've got a private Facebook group where we share some behind the scenes action and also ask people to contribute to our research and development. Email me on jen.j.w.essex@gmail.com if you want to join. We're always happy to give people interested in interactive performance or performance for children work experience, so also feel free to get in touch if you are looking to develop your practice in these areas.
Follow Fully Booked Theatre on Facebook, Twitter, Instagram and Youtube and visit their website here.
Images feature performers Rosie Macari and Robert Anderson working under the direction of Jennifer Essex, taken by Sophie Halford.