We spoke to North East Kuchipudi artist Payal Ramchandani to find out more about her career, her connection with the North East and her latest project 'Just Enough Madness' ahead of it's sharing here at Dance City in June.
Tell us a bit about yourself…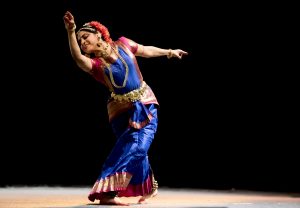 I am a Kuchipudi (South Indian classical dance form) dancer and choreographer with a foundation laid over  27 years of rigorous training in India under illustrious Gurus (teachers). The practice of Indian classical dance is very structured and disciplined. If I were to draw a parallel with a well-known dance form in the west, it would be ballet owing to the structure and edifice of the style. Known for its theatrical expressions (owing to its roots in the dance drama tradition), quick-silver movements, fluidity, spring like bobbing movements, Kuchipudi can be compared to Shakespeare's Elizabethan theatre for many reasons.
Both Kuchipudi and Elizabethan theatre excluded women for a very long time before they both became more inclusive as art forms, which meant that the onus of playing both female and male characters was on the men in both cultures. Kuchipudi, earlier performed in groups as dance-dramas is now also presented in the solo format.
In the UK, I have worked closely with the British Council, Dance City, Akademi, Headway Arts, GemArts, Manasamitra amongst several others.  I have choreographed and toured thematic work that strikes a fine balance between tradition and modernity catering to diverse audiences, namely 'Of love & lament' (uncovers an ancient 11th Century lyric that translates into the medium of visual imagery in the form of a monologue), 'Ramayana'(re-telling the epic) , 'Once in a blue moon' amongst others.
How would you describe your style of work?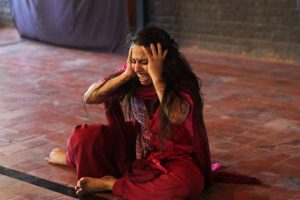 It is a bridge between tradition and modernity. Having trained in the very traditional and classical style of Kuchipudi, even though my work remains rooted in the classical framework and stays true to theatrical idiom of Kuchipudi, my innovation lies in communicating contemporary and socially relevant themes/poems/literary works through that vocabulary adapting to the context and the audience. It's a liberating experience to create work that can help me reach out to all kinds of audiences.
What inspires you in your practice?
I hope for my practice to be a reflection of the times we aspire to be in by drawing up imagery of past and present, through movement and expression. The past and the present serve as bedrock where we see our failures and enemies, our victories and strengths allowing us to create future where there is hope.
What's your favourite piece of work you've seen recently?
Even though not as recent, but has stayed with me….Akram Khan's Until the Lions for just the way it has traversed time, emphasised on gender and for making a tale from the golden era (Mahabharata) speak to an audience of today through unparalleled metaphors and abstractions.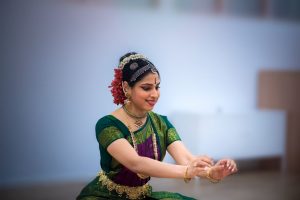 What brought you to the North East?
I moved to the North East to be with my husband who has been here for a long time and we both decided to make Newcastle our base. North east has an active arts scene and is a cultural hub showcasing a plethora of high standard performances to choose from. As of now, I am the only Kuchipudi dancer here but that makes it a very fertile ground for cultivating interest in this beautiful dance style. I am thoroughly enjoying this process of working towards creating space for and establishing this art form.
Tell us about your latest project…
My new dance-theatre production funded by the Arts Council England titled 'Just enough madness' aims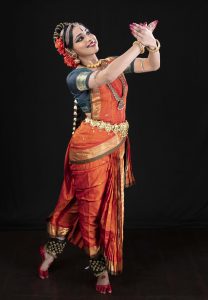 to brighten the current perception towards mental health through a confluence of music ,dance and spoken word. One out of four people suffer from mental health problems. 300,000 people in the UK, with long term mental health problems lose their jobs every year. Carers UK's annual survey (2015) with over 5,000 carers across the UK revealed that 71% of the carers suffer from poor mental and physical health.
Therefore beginning with the external struggles (orthodox beliefs/practices and taboos), the production will take the audience into further realms of the inside of the mind-universe of the one directly coping with a mental health issue and further into the impact of these intrinsic struggles on the surrounding context  which includes, the family, loved ones and most importantly the carer.
The project also uses Hindu folklore, vedic/Latin/Cambodian chants to depict skewed practices like exorcism because depiction of such malpractices would aid in shaping a better future. Being developed in partnership with highly skilled music composer/singer Supriya Nagarajan, the choreography acts as a bridge between western classical music traditions and Carnatic(South Indian classical musical style) music to bring forth the theatricality and lucidity of Kuchipudi (with no cultural baggage) thereby serving diverse audiences. The music, sounds and structures coming from this confluence will bring the best of both musical worlds together to highlight the barriers in the arena of mental health. We will have a residency week and a sharing at Dance City in June 2020 and another week in Kala Sangam at Bradford. GemArts is our marketing partner.
How can people get involved?
We are currently in the R&D phase of the project and would love to hear from people about their battles and ordeals in the arena of mental health. We'd love to weave their experiences or the learning from these experiences into our creative journey. We would urge audiences to come and be a part of the sharing at Dance City on the 5th of June 2020 and if they'd like to come and be a part of the creative process as observers or for any other queries regarding classes or to know more about the dance form, I can be contacted at payalssg01@gmail.com.
Find out more about Payal: Website | Facebook | Instagram
Photo credits: Innee Singh, Jaison Thomas and Smita Sukumar