POSTPONED OUT – Rachael Young
A conversation between two bodies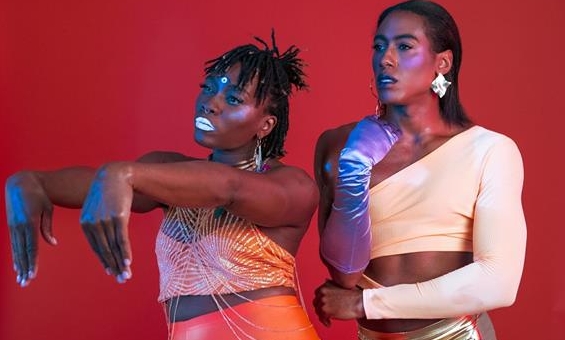 Running time:
approx. 55 minutes (no interval)
Age:
Age: 14+ (strong language and partial nudity)
Tickets:
£13.50
£8.00 students,
£11.00 concession
Part of Curious Festival 2020

'a powerfully eloquent dance dialogue... performed with both calm reserve and concentrated intensity'
The Stage
****

Defiantly challenging homophobia and transphobia, OUT is a duet – a conversation between two bodies, carving out a new kind of space, reclaiming Dancehall and celebrating Vogue culture amongst the bittersweet scent of oranges.

"We're shape-shifting in a bid to fit in; to be black enough, straight enough, Jamaican enough…" Embracing personal, political and cultural dissonance; this act of interdisciplinary self-expression smashes through normativity, summoning voices and re-enacting movements in an exhilarating mash-up of remembrance and re-invention.

Winner of the 2017 South East Dance A Place to Dance Brighton Fringe Award and nominated for the 2017 Total Theatre & The Place Award for Dance.

OUT was created with kind support from Arts Council England, The Marlborough Theatre, The Yard Theatre, IBT, Leicester Curve, South East Dance and Greenwich University.

OUT is programmed as part of Curious Festival 2020, visit www.curiousarts.org.uk and follow Curious Arts on social media for further information and events.

Pay It Forward:
When booking you have the option to purchase a 'Pay It Forward' ticket, a scheme which enables us to approach LGBTQ community groups from Newcastle / Gateshead offering tickets to this event who would not normally be able to afford it. You can support this by buying a Pay It Forward ticket.