Nobody - Motionhouse
A dance-circus adventure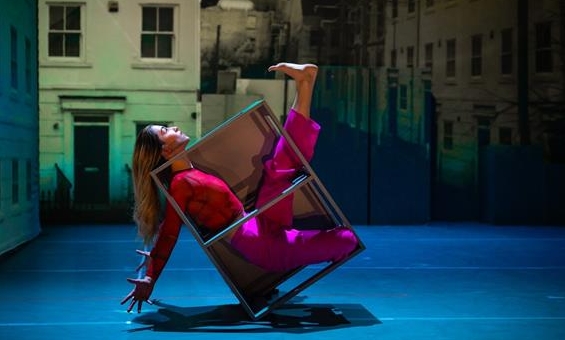 Running time:
approx. 2 hours including interval
Tickets:
£21.00
£8.00 students,
£17.00 concession
Fast-moving and highly physical, Nobody explores the tension between our inner lives and how we make sense of the world around us.

Motionhouse's renowned dance-circus style combines with mesmerising choreography to tell this emotional and ultimately uplifting story, full of twists and turns.

Packed with visual magic, the world on stage is transformed before our eyes. Digital projections and the shape-shifting set create a constantly changing environment where nothing is quite what it seems...

We follow seven characters on their journey of self-discovery to find strength and support in each other, while a group of curious crows questions their every move.

As they negotiate their ever-changing reality, the performers search for answers as the world unravels around them. Can they work together to find out who they are?

Nobody is a spellbinding and strikingly visual adventure – a highly relevant and moving show that resonates with the times we live in.

IMPORTANT NOTICE ABOUT SEATING PLANS

The shows currently on sale for autumn/winter 2021 listed below have a new 'hybrid' seating plan. We have reserved our top (back) tier of seating for socially distanced groupings of one, two, three or four people. These 'bubble' seats have 2-seat gaps around them to enable people who are concerned about sitting closely together to have more space around them.

The front (bottom) tier of seating is not socially distanced. Current thinking around government guidelines on social distancing is that there will be no requirement for theatres to offer this.

We have taken the decision to offer this option and will be monitoring bookings and feedback closely so that we offer the best choices for our audiences.

We will keep ticket bookers informed of any changes to the guidelines for theatre attenders and will offer flexibility on returns and refunds if the situation changes.

This show contains fast moving projected imagery and some fast-changing lighting effects

Contact our Ticket Office on 0191 2610505 or info@dancecity.co.uk if you have any questions.