Dance Edits
A night of new and varied dance works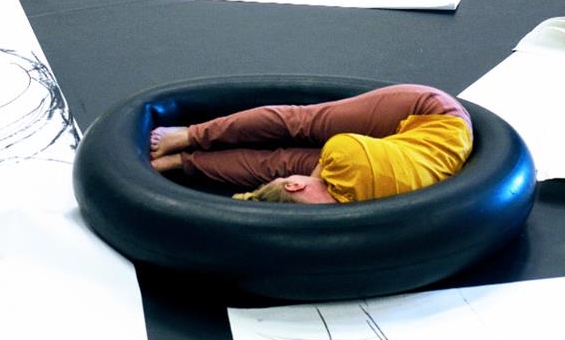 Running time:
approx. 1 hour
Tickets:
£8.00
£8.00 students
Dance Edits is a night of new work by dance makers based in the North East. The pieces are all short (5-10 minutes), and the work will be extremely varied.

7.00pm (approx 1 hour 15 min)
Theatre doors will open from 6:30pm for audience to experience Pelican Theatre's Blue Mind installation

Performances include:

Blue Mind by Pelican Theatre
Blue Mind shares the positive effects of water on our health, wellness, creativity, and connection, through a meditative installation and dance performance. As you follow a pathway through the space to your seats, you will be immersed in the Blue Mind state, with things for you to read, watch, and listen to.

Stairwall - Or things we climb by Esther Huss (pictured)
This piece is an explorative work examining how the three disciplines of dance, visual arts, and music can come together to approach a theme. Made within the historic surroundings of Cambois Miners Welfare Institute this is a meeting of three different artists ready to transform a performance space and take an audience on an adventurous journey of imagination, resonance, and virtue. Abstract and absurd but always accessible this piece seeks to investigate what, when and why we climb, and how this resonates with each individual on a human level.

☑ Other by Lila Naruse and Benedicta Valentina Mamuini
Motivated by experiences of mixed-cultured upbringings, Lila Joy Naruse and Benedicta Valentina Mamuini are interested in the personal understanding of culture, and what others may perceive culture to mean.⁠ They want to focus on the concept of blended culture and how culture is something fluid and malleable, not a category of rigid boxes for us to tick off on a form.⁠ The work will be a loosely structured improvisation that is supported by a recorded audial conversation between the two performers. This snippet is an improvisation of some of the ideas we want to explore for this project once we enter the R&D period.

You Can Take Me Home Toni by Lorraine Smith
You Can Take Me Home Toni is an interactive auto-biographical dance theatre / costume performance, exploring the themes of Identity and Feminism through 80s pop artist Toni Basil. The work combines personal stories, music video recreations, innovative costumes, and eclectic choreography to explore the importance of having a flawed role model when growing up. The audience is invited on an outrageously honest, comedic, and visually dynamic journey of identity play and empowerment.
*Content warning: swearing, sexual assault, graphic descriptions

Waiting On It by Beth Veitch
Waiting for a bus to arrive, the storm to clear, the right time, to be heard, for permission …
In the transitional moments between something and nothing, while the clock continues to tick, the in-between space takes the stage. It is one of hope and resignation, fulfilment and futility and the fertile ground for patience and courage to emerge.