Emerge + See - Breakin' Convention
The very best in Hip Hop dance theatre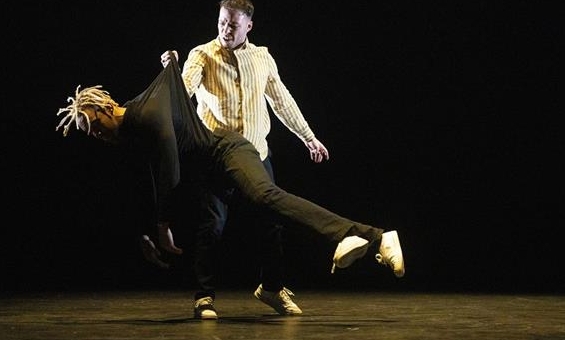 Tickets:
£9.50
£8.00 students
A night of brand-new commissions from hip hop dance theatre makers in the North East and Scotland.
Emerge+See is the latest programme to come from the internationally renowned Breakin' Convention, led by UK hip hop cultural pioneer Jonzi D. Taking place in four editions across the UK, Emerge+See is a professional development project supporting the creation of cutting edge work that speaks to new audiences of the Hip Hop generation.
For the past 18 years Breakin' Convention has presented the very best in hip hop dance theatre from around the world and the UK through the annual festival at Sadler's Wells and national and international tours. It has an established programme of professional development projects and supports grass roots hip hop cultural activity across the UK.
Five artists present new works developed under the mentorship of Anthony Ekundayo-Lennon, Jane Sekonya and Jonzi D.
Performing artists:
Bad Lions Crew (Newcastle)
The All-Nighter
Performers: Rob Anderson, Darren 'Jelly' O'Kane, Jackson Watson
Choreographer: Rob Anderson
Fusing Northern Soul, Breaking, Contemporary and gestural dance styles, 'The All-Nighter' follows the story of three friends hungry to experience the heart pounding soul music, sweat soaked ceiling and the furious flips, kicks and spins behind the doors of the Wigan Casino in the 1970's.
Bad Lions Crew are a collaboration of Bad Taste and Battalions Crews from Newcastle whose members have a wealth of experience in teaching, performing, battling and judging across the UK and internationally.
Divine Tasinda (Glasgow)
WINGS
Choreographed and performed by Divine Tasinda
WINGS. A journey of an angel redivining her human experience.
Divine Tasinda is a Scotland based creative, working in choreography, dance, fashion and sound. She specialises in a range of dance styles from Hip Hop, Afro, and Dancehall. Divine has trained under Goblynz with the guidance of her mentor Levent Nyembo. She is a co-founder of Three60 and the creator of Ako and the House Of Kungi.
Emma Ready (Edinburgh)
Second Guessing
Choreographed and performed by Emma Ready
Using breaking technique, Second Guessing explores the theme of coercive control.
During her 23 years of breaking, Emma Ready has established an international reputation as an inspirational, empathetic motivator who is both approachable and accessible. She's renowned for her creativity and has been dubbed "10,000 Moves Master".
Origin Crew (Newcastle)
Essence of Origin
Performed by Kay Greyson, Mimi, Igor, Marshall and Blessing
Essence of Origin tells the story of Origin Crew, from their roots in Africa, to living life as young black British men. Narrated by local rapper Kay Grayson, this is a mesmerising tale of friends who become family forged amid the pressure cooker of inner-city life in Newcastle.
Origin began life as Moko Jumbies, incredible stilt walkers who strode over the Tyne Bridge as part of Freedom on the Tyne during Freedom City 2017. Supported by Northern Roots, they have since performed at the Notting Hill Carnival and with the RSC. They have also worked with Wigan era Northern Soul dancers which led to a performance with Smoove and Turrell to over a thousand people.
TMRW Crew (Edinburgh)
Reflection
Choreographed and performed by Nevil Jose & Ursula Manandhar
Can the two fragments of one soul learn from each other, resolve their struggle, and make each other stronger?
Drawing on traditional Nepalese Charya dance, hip hop and krump styles, Reflection depicts the internal conflict of the heart versus the mind arising in an individual transplanted from their traditional culture to a new life.
TMRW Crew was formed in 2019 in Edinburgh by a diverse group of dancers with a wide range of cultural backgrounds, with the goal of rekindling the city's freestyle community. A main motivation and underlying concept is the value in learning from each individual to cultivate inclusion and acceptance for everyone.
This project is funded by Arts Council England.
For information about other editions of Emerge+See please go to
Breakin Convention