The Forest Dream - Payal Ramchandani
A multi-dance style theatre work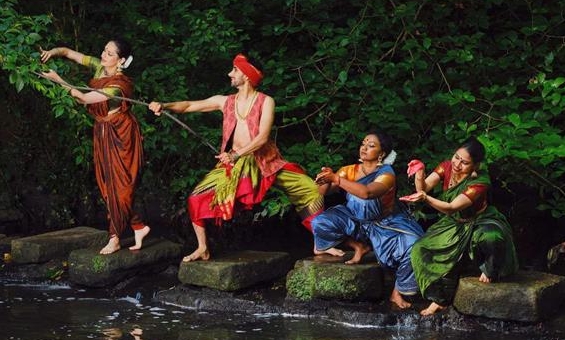 Running time:
approx. 1 hour, 5 mins
Age:
8+, not suitable for very young children due to some dramatic/atmospheric content
Tickets:
£15.00
£12.50 students
'The Forest dream' is a wondrous tale inspired by the true story of 'The Forest Man of India', woven around his relationship with the mystical 'Aranyani', the Goddess of forests. It aims to highlight the urgency of climatic trauma that is befalling us due to selfish acts like deforestation and rampant industrialisation.
Belonging to one of the largest river islands in the sometimes ferocious Brahmputra river, Jadav invites you to be a part of his tribe, his world and of what he seeks. Weaving in Carnatic music with western soundscapes, the production is a stylistic blend of Bharatanatyam, Kuchipudi (both South Indian classical dance styles) and contemporary dance. As the clock ticks irreversibly, this work, holding up a mirror to the current and the next generation, is an urgent plea to course-correct ourselves.
The Forest dream is a multi-dance style theatre work by choreographer and dance artist Payal Ramchandani. The work has been co-commissioned by Dance City and GemArts and is supported by key partners Kala Sangam, Milap, The Lowry, National Trust (Seaton Delaval Hall), Gateshead City Council, Sampad, TCR Hub and The Bowes Museum.
ABOUT THE ARTIST
Payal is a Kuchipudi (South Indian classical dance form) dancer based in Newcastle with 27 years of overall experience including training and performances on the global stage.
Her work is driven by contemporary ideologies and social practices which then metamorphose into a vocabulary that is well balanced between tradition and modernity. Payal's choreographies hold up mirrors for us to reflect on questions around identity, the present and the future. Evoking strong emotions, she does not shy away from creating work that propel audiences to look into the ramifications of their actions. She not only creates work for stage but is also the torch bearer and a leading proponent of the form
in the UK and engages communities through workshops and classes.
PLUS
An informal post show talk will take place after the performance in the atrium of Dance City. The talk will be with a member of the Dance City team, the Choreographer and members of the company.
Talk duration: 20 minutes.
No additional booking required