Boundless

Boundless is the name of Dance City's 55+ company which provides a unique opportunity for mature dancers in the region to develop their contemporary dance and performance skills as well as technical ability. The company work with talented Dance City teachers as well as local guest choreographers to create original work for digital and in person performance opportunities.
The 2020-2021 cohort was chosen in January of this year. Open auditions were held, which invited amateur dancers aged 55+ from all over the North East to participate in artist led contemporary workshops in the hope of securing a spot in the company. Judges were blown away by the level of talent in the room and choosing the successful auditionees was a tough decision.
During the course of lockdown classes were forced to cease, but company members continued to dance at home via online platforms. Since Dance City's reopening in early September the company has returned to training under the guest mentorship of established artist Dora Frankel who will be working collaboratively with Boundless to realise an original piece that will be premiered later this year.
To enable these sessions to happen safely Dance City have facilitated a new 'hybrid' structure (which they have applied to many of their public classes too) allowing company members to take part from home via Zoom as well as in the studio at a social distance.
To find out more about Boundless and the range of activities and offers available for people aged 55+ at Dance City visit dancecity.co.uk, contact info@dancecity.co.uk or give their friendly Ticket Office team a call on 1019 261 0505.
Guest Choreographer: Dora Frankel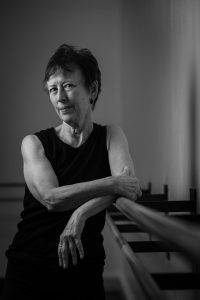 Born in 1951 Dora Frankel trained at the prestigious Rambert School of Ballet and the Benesh Insitute of Choreology (now part of the Royal Academy of Dance). Throughout her impressive career she has worked with a whole host of internationally renowned companies including American Ballet Theatre, The Swedish Royal Ballet, Malmo Ballet and Osterbotten's Wasa Theatre to name just a few.
In 2003 she relocated to North East where she pioneered the regions first early career repertory company Fertile Ground and her own company DoraFrankelDance alongside working as an independent dance artist.
'I was thrilled and honoured to be invited to create the first ever work for Boundless. Cafe de la Luz is a companion piece to a work created in 1995  for young people, called Cafe de Sombra – it felt like a fitting starting point and a homage to our continued youth. I love working with the dancers who are incredibly committed and joyful. We are really looking forward to presenting our Cafe of Light to you!' – Dora Frankel.