The Happiness- Karla Shacklock Company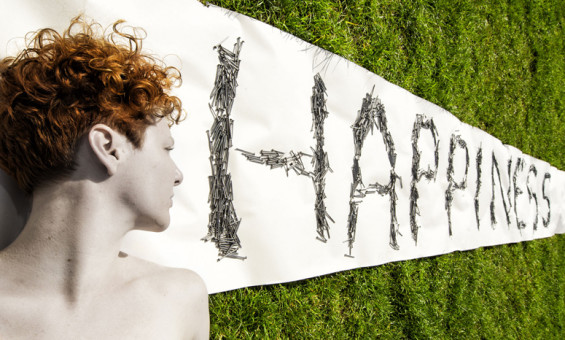 Running time:
approx 1 hour
Fast, fun, thoughtful and physical 'The Happiness' is a provocative and entertaining adventure, by award winning choreographer Karla Shacklock, designed to make you laugh, weep and squirm with recognition. Using the company's trademark combination of breakneck choreography, spoken word, live sound and ever transforming images, The Happiness is an emotional and colourful explosion of joy, grief and confusion, which has been made, and will be performed, through the company's unique artistic practice; the performers decide the structure of the work live in the moment of performance - meaning that each performance is completely unique! Combining first person stories, case studies from across the globe and referencing a whole host of philosophers and self-proclaimed happiness gurus, the work throws happiness up for all to question, see, experience and, ultimately, feel.

Co-commissioned by Pavilion Dance South West and Theatre Bristol, with support from Arts Council England, Bristol Old Vic and Arnolfini. #thehappiness

Audience Member Quotes:

"Pure magic! Visually breathtaking, physically exciting and emotionally moving and insightful. And all with such truth."

"A beautiful multi-sensorial experience. I feel so happy now! Thank you for letting me play!"

"Outstanding! Incredibly relatable and so infectious. A brave and essential work that really touched me."

"Innovative, inspiring, involving, endearing, beautifully simple. More power to you!"

"I was absorbed beyond mere happiness. And... I normally hate audience participation... but today I loved it!"

There will be a post show talk on Friday 15 April.


Please note: latecomers may not be admitted.