Dance City is delighted to announce the artists who have been awarded the Dance City and Gillian Dickinson Trust Residency/Commissions. You can find out more about Dance City and Gillian Dickinson Trust Residency and Commission, the awarded artists and their projects below. 
The Dance City and Gillian Dickinson Trust Residency/Commission is a three-year programme during which six artists or companies, two each year, will embed their practice within the thriving dance community in the North East of England. During each residency period, the commissioned artists will not only take advantage of Dance City's studios and theatre to develop new ideas and present new works but also engage with Dance City's communities, including professionals, students, audiences, and participants across the region. Each artist will be provided with funds, space, and staff support to work with students, connect with the artistic community, and to develop their work.
Fertile Ground – Renaud Wiser, Jamaal Burkmar and Patricia Okenwa (Spring 2024 Residency/Commission)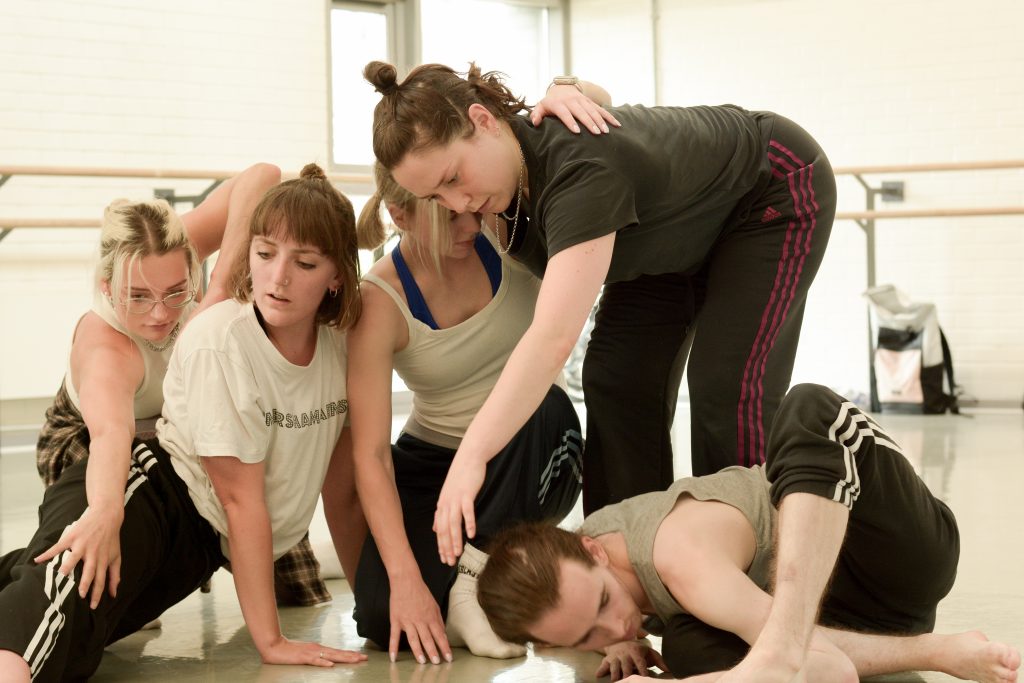 Fertile Ground will develop an artistic programme based on the work of choreographers Patricia Okenwa and Jamaal Burkmar. Both choreographers are in residency with Fertile Ground this July. The commission is the opportunity to bring this research into a final performance programme to present live from March 2024.
Okenwa is a German-Nigerian choreographer, who trained at John Neumeier (Hamburg) & Rambert School and a former Rambert dancer. She works across dance, theatre, opera, film and AR/VR. She is collaborating with composer Quinta on a new work exploring how we start again and again. Patricia likes to hone in on the movement qualities to embody and make visible relationships and dynamics she finds most fascinating. The collaboration between the two makers is based on their explorations and conversations about the many passions they share including the need to create.
Burkmar is an award-winning choreographer whose commissions include VERVE, Dance Hub (Birmingham), Leeds Dance Partnership and Phoenix Dance Theatre. His work has a strong relationship to music and sits in many spaces (outdoor, theatre, online). Music and improvisation are at the heart of how he navigates a process. For this project, he is interested in an album by Tyler the Creator. The overall story of the album is something many have lived through – unreciprocated love. Through Tyler's lens, he'll explore love and relationships, and the angst and discomfort involved in the 'not knowing'.
Fertile Ground creates performances and provides creative learning opportunities to young people and local communities, with experience working with 34 emerging dancers and over 30 artists, performing to 10k people and engaging 5k participants through workshops since 2018. Fertile Ground's ambition is to support the development of dance and contribute to talent retention in the Northeast. This opportunity contributes to our aim of creating pathways to creative industry careers, providing paid employment to locally selected cast, and inspiring young dancers who gain experience and confidence surrounded by local role models.
Fertile Ground's cast is formed of four dancers born, trained or based in the North East. This is at the core of Fertile Grounds ethos:
Pagan Hunt: Based in Tynemouth, Hayley Walker: Based in Newcastle, Alex Thirkle: Born and raised in Newcastle, Rebecca Douglass: Born and raised in Newcastle. Creative collaborators include Quinta – composer, Barnaby Booth – Lighting Designer and Becky Bevan – Design.
Fertile Ground are committed to increasing the representation of choreographers from different ethnic backgrounds, to create works that resonate with many including communities often disenfranchised from dance. For Burkmar, who grew up in a multicultural community in Leicester with Jamaican and British heritage surrounding him, it's important that his work inspires people from those and other backgrounds. Fertile Ground are also committed to a strong representation of female artists with 6 women out of the 9 artists currently involved in the project. "Our artists act as role models to a new generation of dance students and enthusiasts, showing that a career in dance is an option for all."
Fertile Ground is thrilled to be the recipient of the 2024 Dance City and Gillian Dickinson Trust Residency/Commission. This award will support two new creations; a collaboration between choreographer Patrica Okenwa and composer Quinta and a creation by choreographer Jamaal Burkmar. This is a fantastic opportunity for our company to showcase the talent of young dancers from the North East and support them in their early career. We look forwards to this collaboration with dance City and its team and to meet many of Newcastle's dance community at our performances and engagement activities planned for Spring 2024.

Fertile Ground
Yewande 103 – Alexandrina Hemsley – (Summer 2024 Residency/Commission)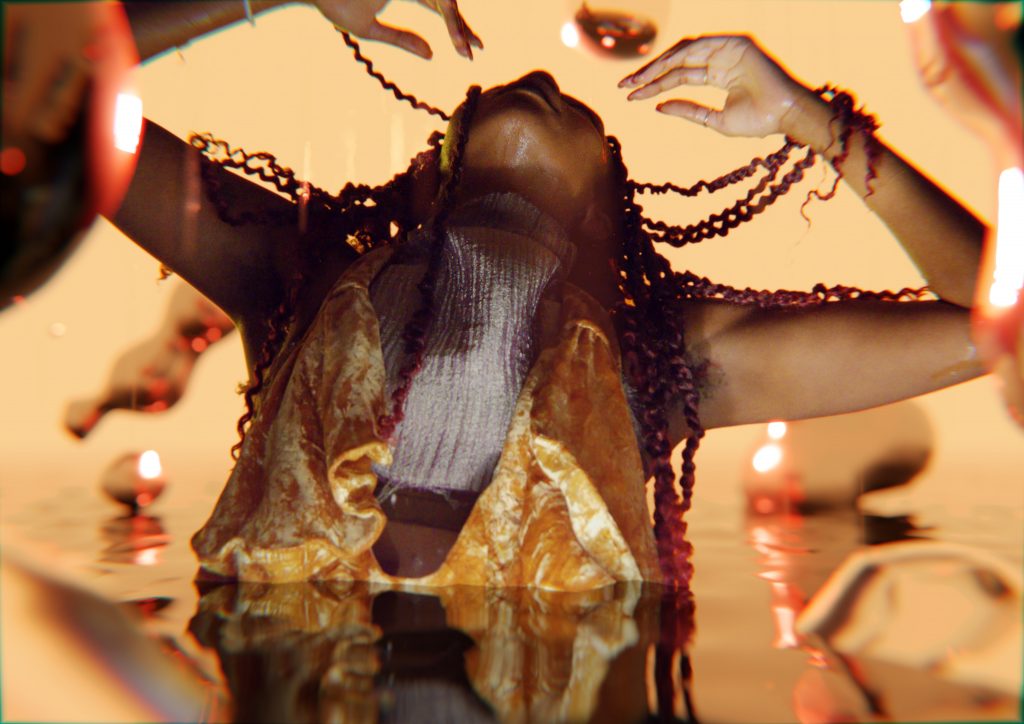 Founder Alexandrina Hemsley started Yewande 103 in 2020 as a container for their established creative practice and to formalise and expand their values of care, support and connection. Yewande is Alexandrina's middle name. It means, 'mother has returned'. There is a tender determination and commitment to both uphold and further understand intergenerational, cyclical patterns of expression and repair. The company's ethos blooms around an evolving central question of how to return to intimacy within continual, systemic harms.
Through the connective tissues of dance, writing, film, collage and poetry, Yewande 103 enables Alexandrina to resource, process, explore, share and advocate for multiple ways of embodied being. She sees her company as a canopy under which lived experience is the guide for making. There is an interdisciplinary approach that underpins what she creates, be that performances, texts, workshops or other holding spaces. Hers is a lifelong work, forever shaped by profound processing and the seeking out of reparative, embodied alternatives after/alongside violence's of racism, misogyny, inadequate care and institutional failings of arts and healthcare sectors.
Alexandrina works in close partnership with Executive Producer Nancy May Roberts, reflecting the sensibilities of our overlapping practices. As a duo, they are driven to enliven choreographic spaces, develop discourse and create atmospheres for movement-based, access-led practice across dance, arts and mental health. They see this work as embodied advocacy. They are passionate about sensitive, caring, and inclusive frameworks with a particular focus on transforming the landscape for people of colour with long-term health conditions.
Through this opportunity with Dance City & collaboration with the CAT intensive & the BA students, this project will see the development of a new screen dance & performance installation titled 'A Moment That Changed Me' (AMTCM). They also plan to hold a host of public conversations on the core Y103 themes of loss, joy, repair & intimacy and working with choreography in community & social healthcare spaces.
Our established national reach & expertise in addressing overlaps of race & health-based inequalities, aims to change parameters of who has access to high-quality dance & opportunities for creative expression. We are intentional about the work culture we create.
Alexandrina will lead the creative direction of the project. Alexandrina holds extensive experience across 14+ years of choreographing, change-making, teaching, facilitating, and self-producing. Alexandrina's portfolio includes making work for and touring leading arts spaces including Sadlers Wells, Battersea Arts Centre, Somerset House, Southbank Centre, The Place, Cambridge Junction, MDI, South East Dance, Chisenhale Dance Space and The Yard Theatre amongst others. Nancy will lead production. Nancy holds more than ten years of project management and production experience across independent, commercial, and community dance and interdisciplinary arts contexts. Driven by an interest in the ethics of production, Nancy centres the imperative of changing the parameters of who creative spaces are for. Nancy's portfolio to date incorporates dance, live art, mental health and social health care settings, including Body and Soul Charity, NHS CAHMS, Place To Be, Siobhan Davies Dance, Pirate Studios, Baltic Centre of Contemporary Art, Tramway, BADT, and National Theatre.
Artistic Collaborators consist of Katarzyna Perlak (KP)/ KP for filming & editing. Choreographer, Performer, & Movement Director: Seke Chimutengwende (SC)/ SC, Rickay Hewitt-Martins & Rudzani Moleya ( RHM, RM)/ RHM & RM as cofacilitators and Caterina Castro Frigerio (CCF)/ CCF for the lighting and scenography design.

"I am excited to receive this support towards not only making a new performance and film work, but having the resource to continue working with and learning from wider communities of young people experiencing dance education. This feels like a unique opportunity and quite the milestone in my ongoing practice around repair, care and intimacy. Thank you to Dance City and Gillian Dickinson Trust for enabling me to carve out time to fully immerse the company in creative processes so generously."

Alexandrina Hemsley