Community Projects

Dance City strives to develop dance with and for anyone and everyone. We are firm believers that dance is for all so even if you have never danced before we welcome you. Every year we deliver a wide range of exciting projects, taking dance out of our landmark buildings and into the heart of communities. We work with 8000+ people a year across a range of ages, abilities and backgrounds.
Why work with Dance City?
Our dance workshops can be catered to any age group and ability.
We work with talented and experienced teachers who can lead your group in a variety of dance styles.
We can bring dance to you at your venue.
You can come to us and dance in our purpose-built studios and theatre.
We have a wealth of experience in working with a whole host of partners, in making all types of projects possible.
You can achieve Arts Award with us (click the image below to find out more).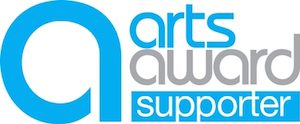 Please give us a call (0191) 261 0505 or email us info@dancecity.co.uk if you have an idea for a project or are keen to learn more about how to get involved in any of our existing opportunities and let's get people moving! Check out our latest project 'Dancing in the Streets' below:
Streets Games 2021
Our Engagement team were out and about across Newcastle in the Summer as part of Street Game's Holiday Activity fund. In partnership with Inspire Youth we got young people moving!
To find out more about some of our past projects, explore our archive below. 
Feedback from partners
'Thank you with all my heart for your full immersion in this project. It was so, so worthwhile and really great to see the children enjoying themselves so utterly at the site. It was everything I imagined it would be.'
'Thank you so much for the efforts of your staff and yourself to ensure the project has run smoothly and it was such an exciting day for our pupils.'
'Dance enables people to reconnect with their youth. It is a way of bringing people together to help overcome feelings of social isolation and low mood. People have fun together, and dance is the ideal activity to maintain and improve their health and wellbeing.'